Beast Dropbar for mountain bikes – Overview
Do you still remember the golden MTB times? At that time, the cycling discipline of Mountainbiking was still very young. There was a spirit of optimism and there was something new almost every month. In the very beginning, the mountain bike was simply a bike for the rough stuff. Later, the young sport developed on the one hand towards the performance-oriented cross country discipline. On the other hand, there was the fast-paced downhill sport with a focus on challenging descents. In downhill competitions, one thing was really very unusual: a drop bar for mountain bikes!
One of the first real MTB heroes was John Tomac. What distinguished him was that he always thought outside the box. He raced cross country, but also downhill competitions. And he was among the world class in all disciplines. Just as he could not be squeezed into any MTB discipline, he also made his choice of material.
From this attitude arose a curiosity, which at the time always caused a stir: John Tomac used a road bike drop bar an his downhill bike! That was about 30 years ago – but that would prove two facts. First, a drop bar on the MTB, aktually works. Second, you can be pretty darn fast with it.
Basically, John Tomac was always ridiculed for this handlebar choice. The drop bar on the mountain bike has not prevailed to date, as is well known. There are few exotic dropbars that are specially designed for combination with mountain bike components.
Brakes and shifters from the MTB can be attached to these. I have actually found exactly one other handlebar that is also designed as a drop bar for mountain bikes: Surly has such a handlebar on offer. And now also Beast – whereby the Hybrid Bar is the first drop bar for mountain bikes made of carbon that I know of. In addition, it has many other exciting features…
Why can it make sense to ride a drop bar for mountain bikes?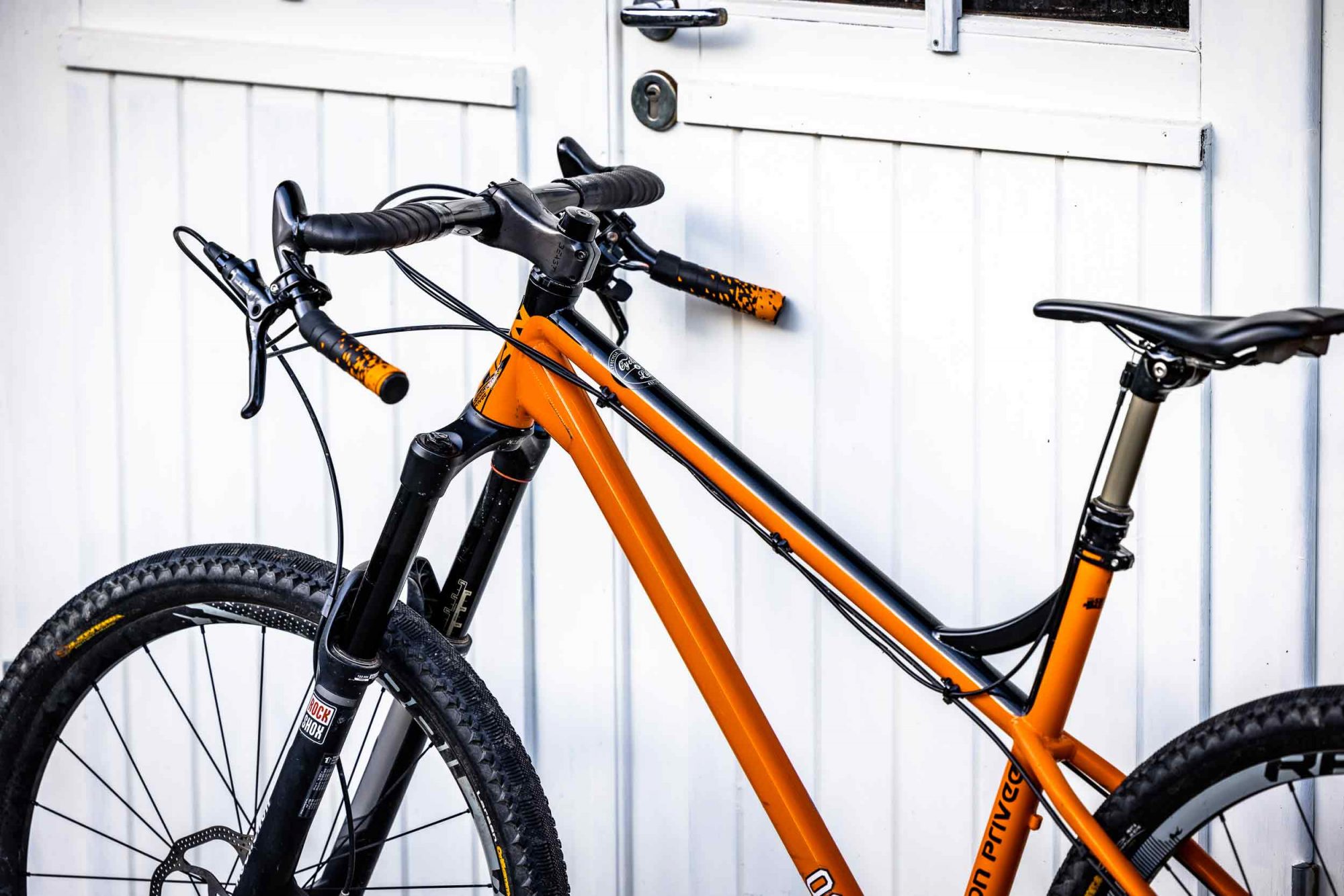 Before we take a closer look at the new Beast Hybrid Bar, I would like to briefly discuss why a MTB drop bar can be useful. For this, I would first like to highlight the differences from a conventional Roadbike- or Graveldropbar. The main difference is quickly explained: MTB brakes and shifters can be attached to a drop bar for mountain bikes.
This is ensured by a different shape of the handlebar in the area of the "drop". A road bike handlebar usually is more or less round in shape. If you were to attach a mountain bike brake lever here, the whole thing would be a disaster from an ergonomic point of view. In addition, the clamps of the MTB parts would probably not fit.
In the drop bar for mountain bikes, the shape is somewhat modified: A "nose" upwards simulates the non-existent road bike brake handle, so that the typical lateral upper grip position of a drop bar is possible. The lower part of the curved handlebar end is kept relatively straight, or completely straight at the MTB Dropbar.
This results in a comfortable grip width to the brake lever, in addition, straight MTB grips could be attached. In addition, the geometry of a drop bar for mountain bikes is usually different from the classic road bike handlebar. On the whole, it is more like that of an off-road-heavy and long-distance gravel drop bar.
With all these features, a handlebar like the Beast Hybrid Bar is predestined for use on adventure gravel bikes that are moved through real off-road terrain. The use of MTB components can be a real advantage here. Aditionally, if you want to convert your MTB hardtail to a "hybrid" bike, the drop bar for mountain bikes is a smart alternative.
Briefly summarized the main advantages that a drop bar for mountain biking has to offer:
You can use your MTB components
Your're able to convert your old hardtail into a gravel MTB bikepacking bike effortless
You don't have to get used to a different brake feel and shifting logic
You can use biting MTB disc brakes, which are usually much more powerful than road models. You don't have to get unaccustomed to braking force and pressure point.
What are the special features of the Beast Hybrid Bar?
The main Beast principle is that if they're going to do it, they're going to do it right. This is exactly what makes the Beast Hybrid Bar a really exciting part. First of all, the new Beast handlebar is super light at 350 grams. It comes in the usual Beast quality, which is at the absolute top level. Admittedly, so is the price (499.99 Euros). This comes with a five-year warranty and no weight limit at all.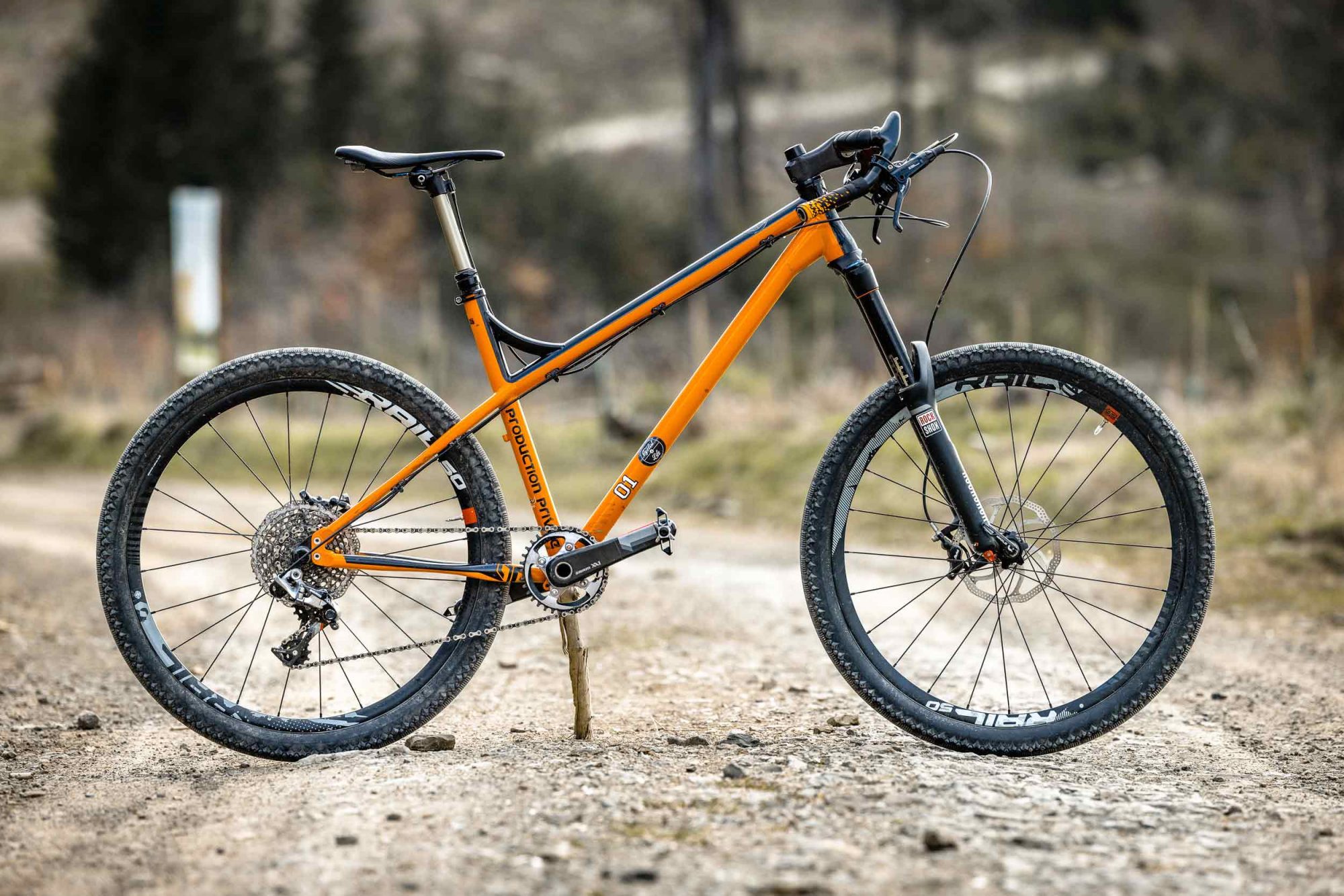 The clamping areas are extra reinforced, so that even with particularly "cutting" components, such as the brake handles of Shimano, no problems are not to be expected. The carbon fibers are designed very stiff and yet should provide high comfort. The top link has a slight backsweep and the proven drop-shape that we already like so much on the Beast Gravelbar. All other dimensions to the Beast handlebar you will find here.
As you can see, Beast has really put a lot of thought into this. The basic principle of the handlebar is not entirely new. The implementation in the form of a carbon handlebar, however, is. No other manufacturer is offering a carbon dropbar for mountainbikes. If you want to know where and how Beast products are made, I recommend this article. There you will also find a video of my visit to Beast Components in Dresden.
Beast Hybrid Bar: The assembly of the drop bar for MTB
First, a few words about my "hybrid bike." This is not an adventure gravel bike, as you can see right away. Rather, it is a classic mountain bike hardtail that still rolls on 26 inches. I built this many years ago with great attention to detail. However, the bike has somehow become more and more a kind of commuting everyday bike. To go faster on the road, I converted it to semislicks. Recently a trailer hitch was added.
I chose exactly this bike for the Beast Hybrid Bar test because I use it regularly and because I like it a lot. In addition, I use it in an area that I could cover just as well with a gravel bike. So why not spin this hybrid idea quite consistently further?
The conversion itself is conceivably simple. Basically, it's not much more complicated than installing a new mountain bike handlebar. The biggest advantage is that I just have to unscrew the brake / shift handles from the old handlebars and screw them to the new handlebars.
The rest is then similar "fiddly" as with a normal drop bar, because it goes to the handlebar tape winding. I do this in two parts so I can adjust or replace the brake handles as needed without the grip tape preventing it. This makes things slightly more fiddly. I have to cut the tape to size and need extra tape to hold the now four ends in place. I am not yet 100 percent satisfied with the result.
Theoretically, mountain bike lock-on grips can also be attached to the lower grip of the Beast Hybrid Bar. However, normal handles are about 135 mm long. It doesn't fit. Alternatively, you could install short Lock On grips. These are offered for combination with Grip Shift shifters. Using those grips, you only need to wrap the top.
I have noticed another minor problem: In the handlebar ends of the Beast MTB Dropbar fit none of my conventional road handlebar end plugs. This is because MTB handlebars have a slightly smaller diameter in the area of the grips. If you buy Lock On grips, the matching end plugs are usually included. If you want to wrap, you'll need to buy the appropriate end plugs separately.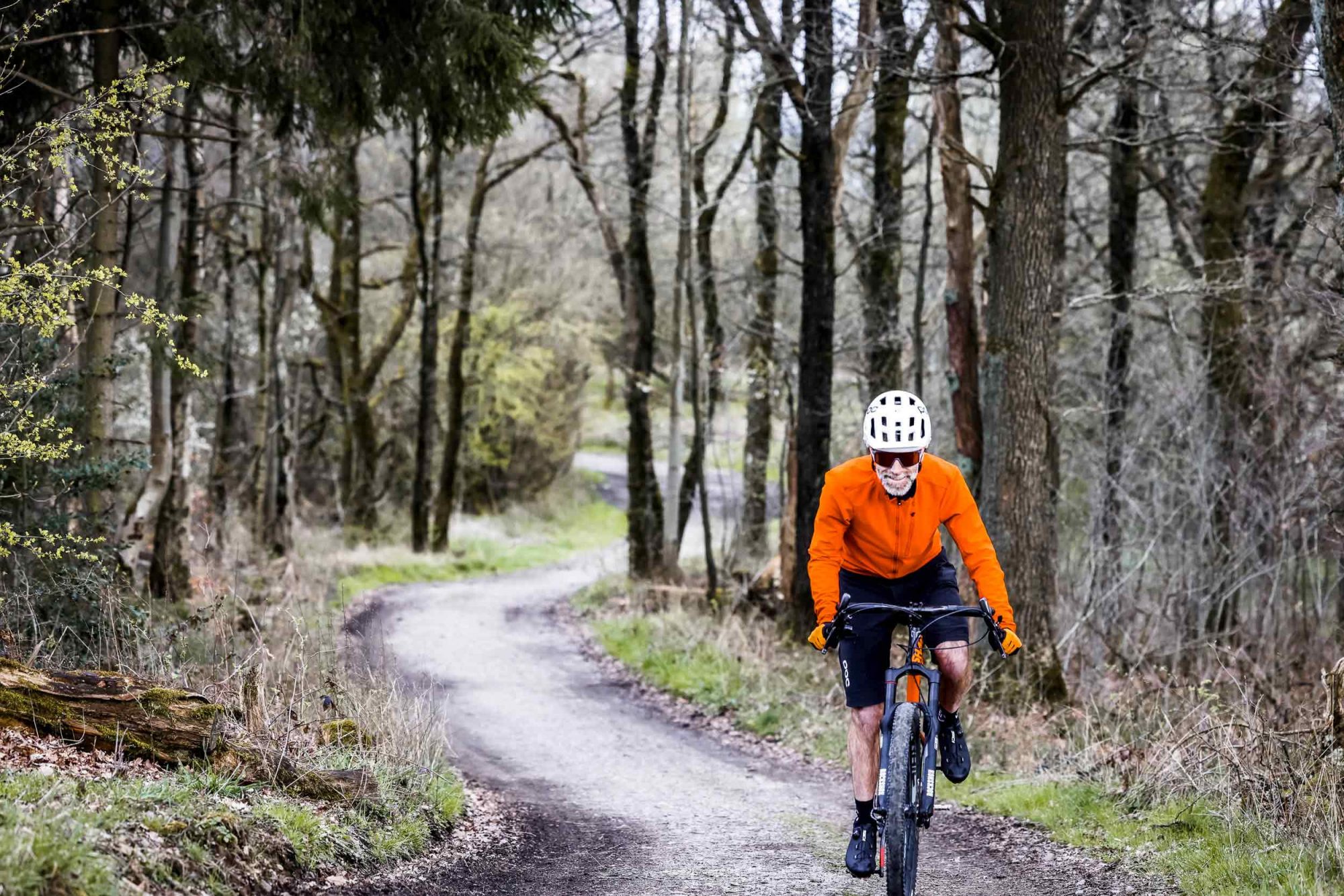 Dropbar for mountain bikes: First impressions of the Beast Hybrid Bar
Of course, the result is visually "surprising" at first. But I must say: I like my "new" hybrid bike super! Its race look, the range of use and the new drop bar – i really like it much. The only thing that bothers me a bit are the long cables and hoses that protrude forward in front of the handlebars. The wrap of the handlebar tape you can certainly get even better than I managed. The most important question is anyway: How does the bike feel with the new handlebars?
Please note: I am sharing my first impressions with you. The handlebar is just a few days in use. More detailed feedback will follow as it becomes available. Then I will also be able to say something about bikepacking.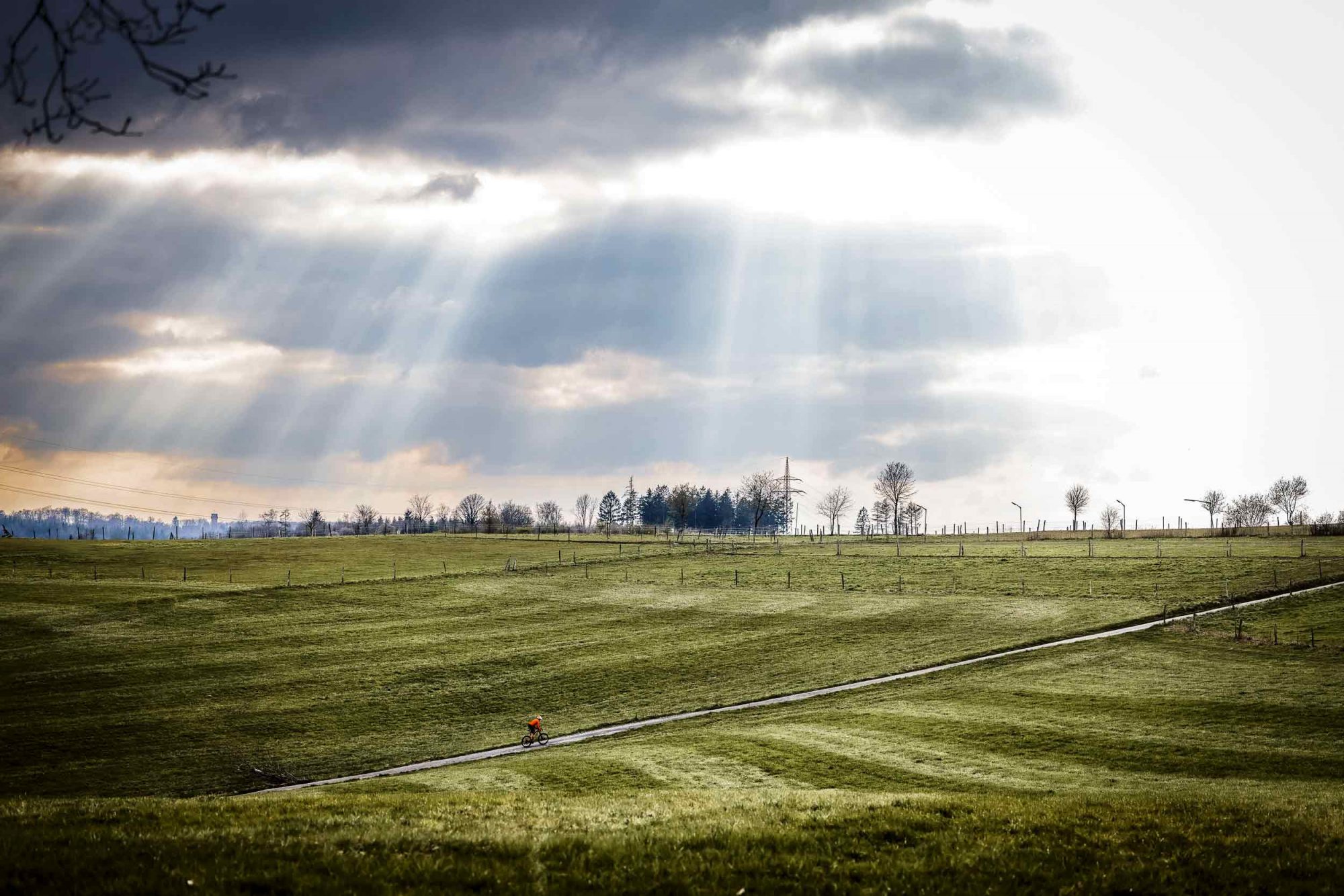 Basically, I am absolutely positively surprised. The MTB does not feel strange at all with the drop bar. On the contrary, the new grip positions are a great addition. The "feel" of the handlebar itself can be compared very well with the Beast Gravel Bar: it is stiff, but totally ergonomic and comfortable.
Its geometry looks totally thought out and pleasant. The only thing I still have to get used to is the fact that you have no access to the brake levers from the lateral upper grip. Braking is therefore only possible in the underhand grip. But this will probably always remain the small "flaw" in any drop bar for mountain bikes…
One more thing about the price of the handlebar: Yes, this Beast handlebar is very expensive. That's why I recommend you be very deliberate about the eventual purchase of a Beast handlebar. For me, the decisive factor is the desire to be able to use a product for a long time. In addition, the manufacture of a product is important to me.
At Beast I was able to get a picture of it. Everything here is as "clean" as possible and the conditions are extremely fair. You have a five-year warranty and I am relatively sure that these handlebars also last longer. If you're not sure what you're actually looking for a handlebar or if you want a new one every year anyway, then a handlebar from Beast is certainly not right for you.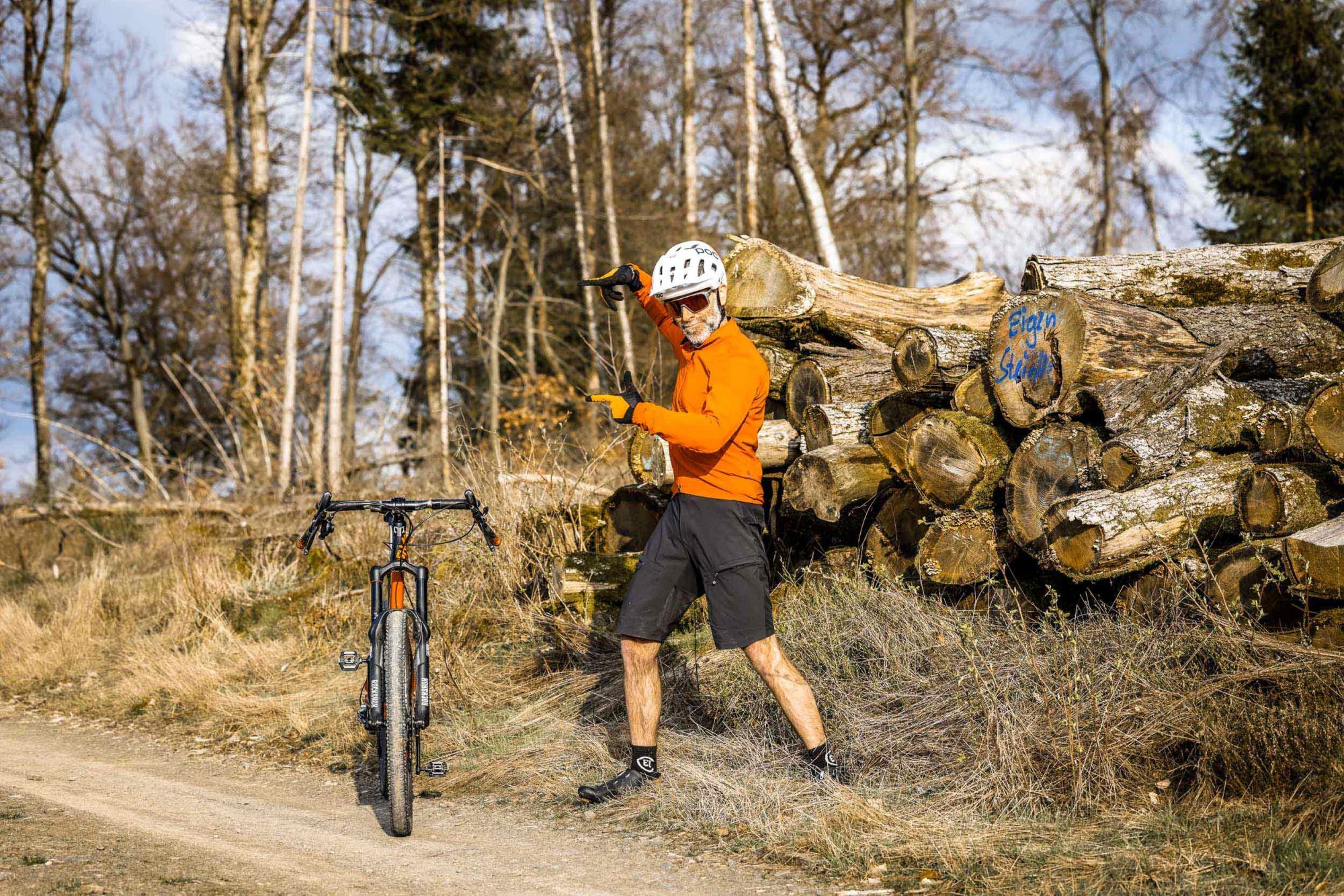 Beast Hybrid Bar: Bottom Line
I couldn't really imagine much about this "hybrid" concept at first. The more I've looked into it, the more i liked it. Meanwhile, I reallylove riding my old MTB hardtail again. Before that, it led a somewhat sad shadowy existence in my basement. And that's kind of the best proof that a concept works, isn't it?
The Beast Hybrid Bar is definitely expensive and only recommended if you're sure that's what you're looking for and that you want to use it for a long time. Then it will offer top quality, best function, high comfort and ideal ergonomics.