The bicycle is an important element of the sustainable traffic turnaround – the experts agree on this. And once you get on a bike, you know that silent transport is not only practical, cheap and environmentally friendly – it's also fun. Not least because it brings back a great feeling: the feeling of freedom! Regardless of service appointments, petrol stations, car parks and motorways – on a bike like the new Bergamont Hans-E Test Bike, which is the subject here, you move in the fresh air, park it wherever it suits you, turn off when you feel like it. The bicycle is – if you ask us – a synonym for freedom.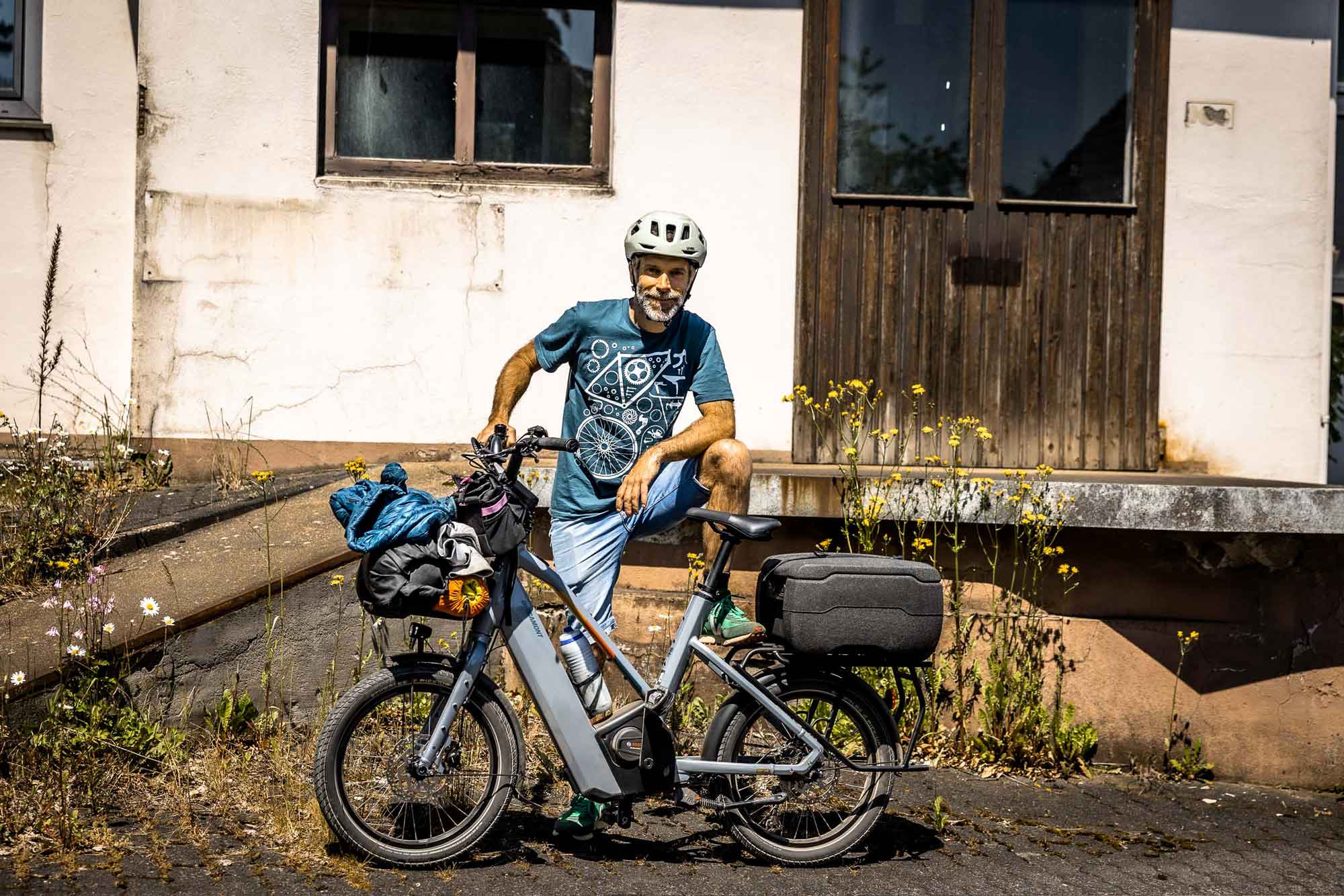 Nevertheless, some people may sometimes feel that a cycle could restrict their freedom. For example, because there is too little space for spontaneous bulk shopping. Or because you got soaking wet in the rain. Or because it wasn't allowed on the train because it's full or because you're on a cargo bike.
There are so many bicycle concepts around that it is quite natural not every bike suits every cyclist and all daily situations. Especially in the city, space is often a limiting factor. Whether on the narrow, busy streets or in the basements of the apartment blocks. A huge cargo bike may be practical, but it is simply misplaced in such conditions.
The bicycle manufacturer Bergamont has also realised this long ago. That's why, in addition to voluminous cargo bikes like the Cargoville LJ70, he also has the exact opposite in his range: an urban "minibike" with amazing capabilities. May we introduce: Hans-E! Bergamont itself characterises the compact two-wheeler with the funny name as follows: "Extremely compact, ultra strong and mega functional! So let's first take a look at what is meant by this …
Bergamont Hans-E Test – Overview
Bergamont Hans-E: The compact mini urban bike at a glance
Small but powerful!
Our Bergamont Hans-E test bike is "mini" – you can see that at first glance. The compact bike looks a bit like it has been in the tumble dryer for too long: The wheels have shrunk to 20 inches and the frame has also been shortened a bit. No surprise: with a wheelbase of only 105 centimetres, the nippy Hans has turned out extremely short. But you also see the second part of the concept: Hans-E is small but powerful!
The massive-looking rear luggage rack and its counterpart at the front tell the tale: this bike can be properly loaded. In numbers: The maximum luggage carrier load is 20 kilos, and you can carry a total of 130 kilos on the bike. The "LT" model is even more powerful: Here, the permissible total weight is 160 kilos, 15 kg at the front and 27 kg at the rear. This puts it in a similar league to the Tern Quick Haul and it can confidently be called a mini cargo bike.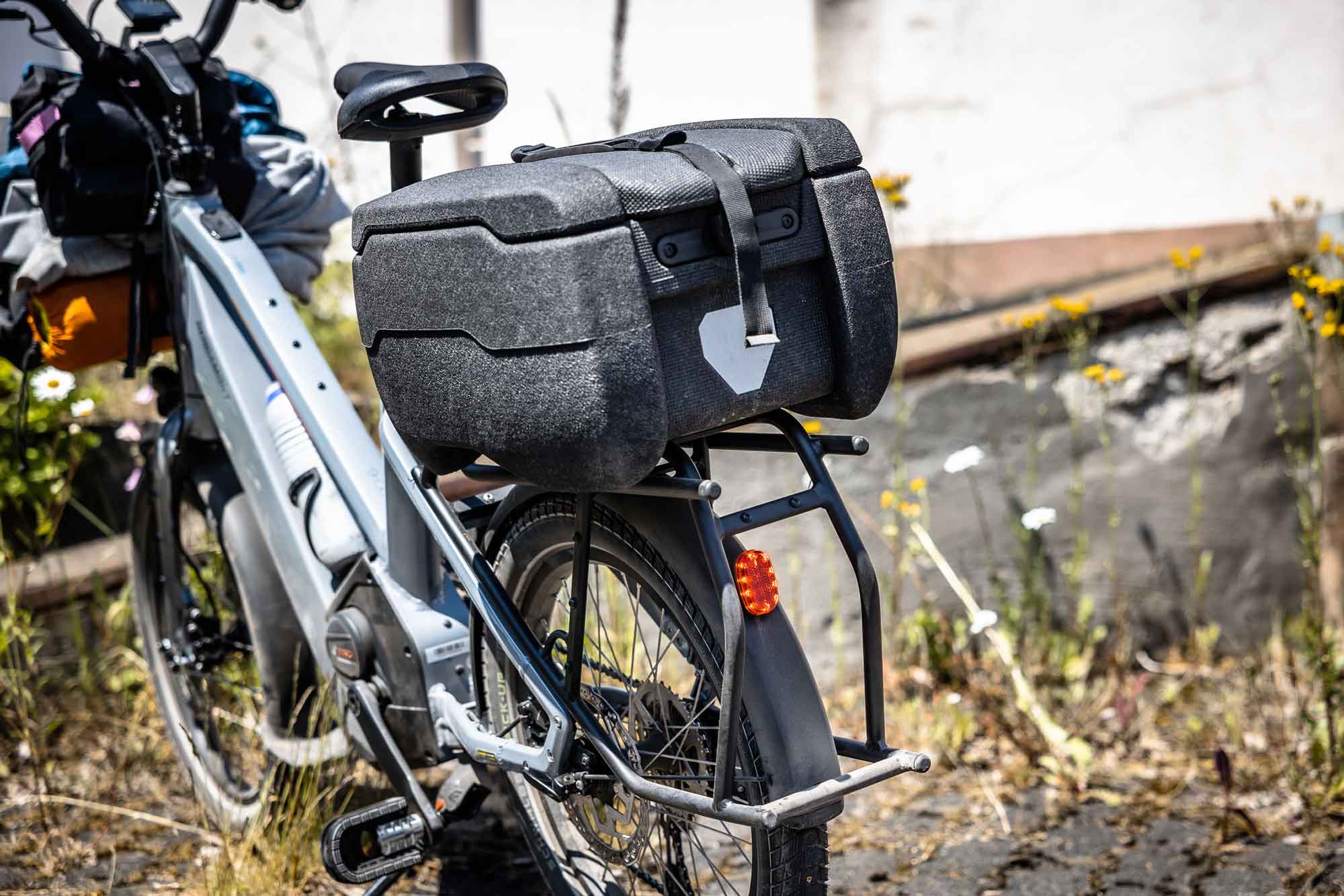 As already mentioned and undoubtedly visible: the Bergamont Hans-E is decidedly compact. Thus it should fit under almost every staircase and in every corner. With a trick, the parking space requirement is really minimal: the rear luggage rack is designed so that you can place Hans-E upright on it. It's really smart and damn practical if you have limited space in your home or office, for example.
Features
In terms of equipment, the Mini Cargobike from Bergamont comes across as rock solid. The robust 20-inch wheels with Shimano hubs and Ryde rims are completed by extremely puncture-resistant Schwalbe Pick-Up tyres. These tyres were specially developed for use on cargo bikes and are designed for heavy weight. In addition, there are proven Shimano disc brakes, an inexpensive Shimano derailleur and tried-and-tested light from Busch und Müller. The other parts come partly from the company's own product lines and partly from other component manufacturers. They all deserve the rating "unspectacular, functional, inexpensive". You can find the complete Parts List here.
That leaves one component of the Hans-E that you have probably already noticed: the electric motor. Proven Bosch technology is used here, namely a third-generation Bosch Performance Line motor. Since we are now on generation 4 of this engine series, you may be wondering what the differences are. We'll break it down compactly at this point: The motors of the Powerline Gen. 3 have slightly less power than the new 4s.
In addition, they are not yet "smart", i.e. they do not communicate with the Bosch Kiox display, for example. Is that something bad? Not at all. The engine power should be more than enough in the urban area envisaged. If you just want to ride, the principle of "less is more" is a good thing: you don't need to pair, connect or adjust anything. Get on and go, that's Hans' motto.
Bergamont Hans-E: Mini-commuting city cargobike with two models
We have already hinted at it above: Hans-E does not come alone. In his pack is his big brother, Hans-E LT. He is a bit longer and can load a bit more. We think it is at least as exciting that it is equipped with a belt drive. This is a great advantage, especially in urban use and on "civilian" occasions. Firstly, because any kind of drive maintenance is virtually eliminated.
Secondly – as banal as it sounds – because the belt is clean as a whistle and leaves no black streaks on freshly washed trousers (or on the sun-tanned calf). Around 600 euros separate the two Hans-Es: 3,999 euros vs. 4,599 euros. So if the ultra-compactness of the standard Hans is not your winning argument, it's well worth taking a closer look at the "LT" variant.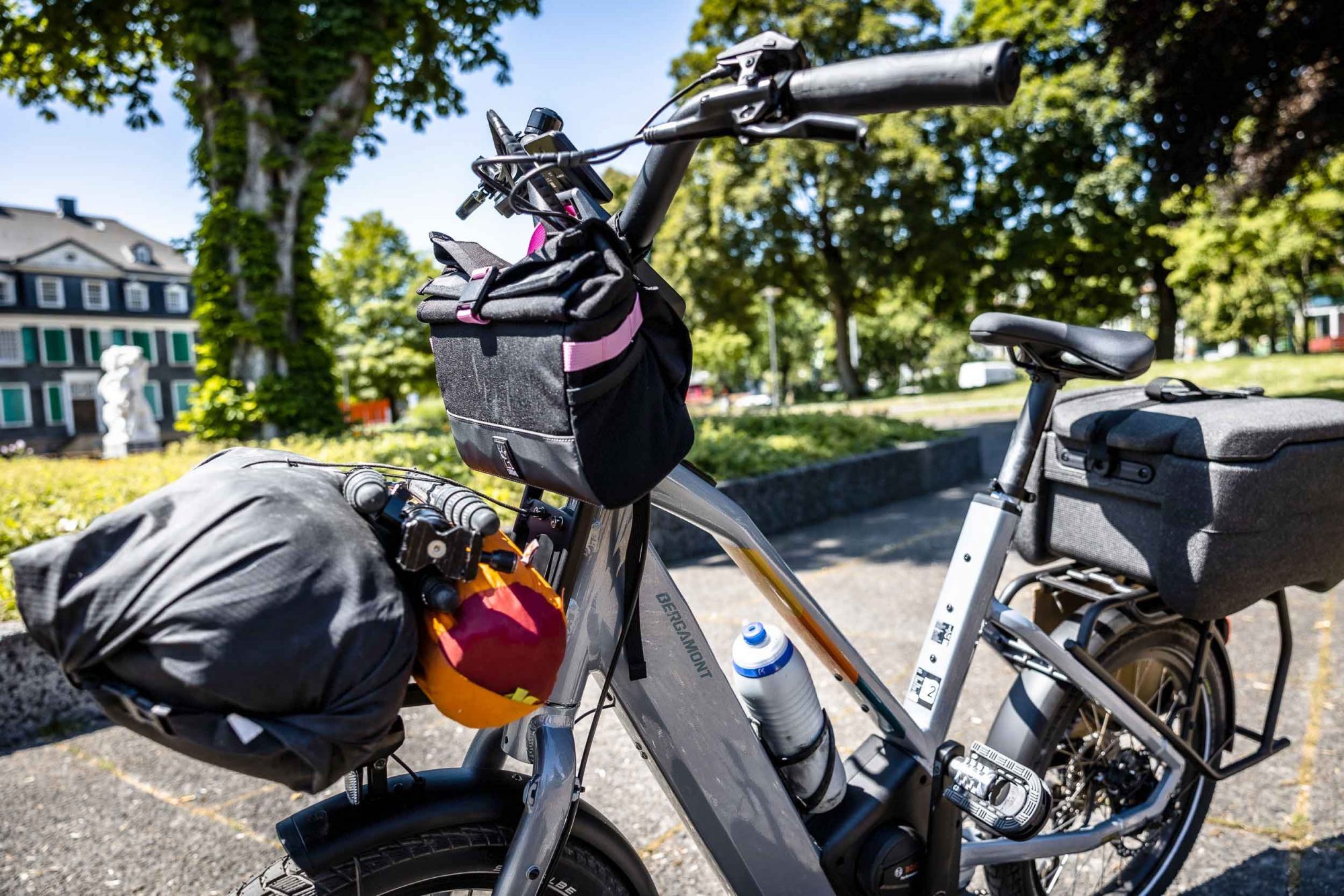 The Bergamont Hans-E Review
Hans-E is in our long-term test. That makes this test a permanent feature: over the summer of 2023, it will be worthwhile to check back here from time to time. We will add to this text as we gain new insights. What we have experienced with our Hans-E in the meantime can be read in the print edition of our magazine. If there is something new, you will find it out in our newsletter.
Hans' first big trip was a very special one: In search of freedom, we went bikepacking with him! Packed with sleeping bags and food, we ended up stranded at a cool cultural festival with music ranging from punk to drum'n'base. But more about that in our issue #21 …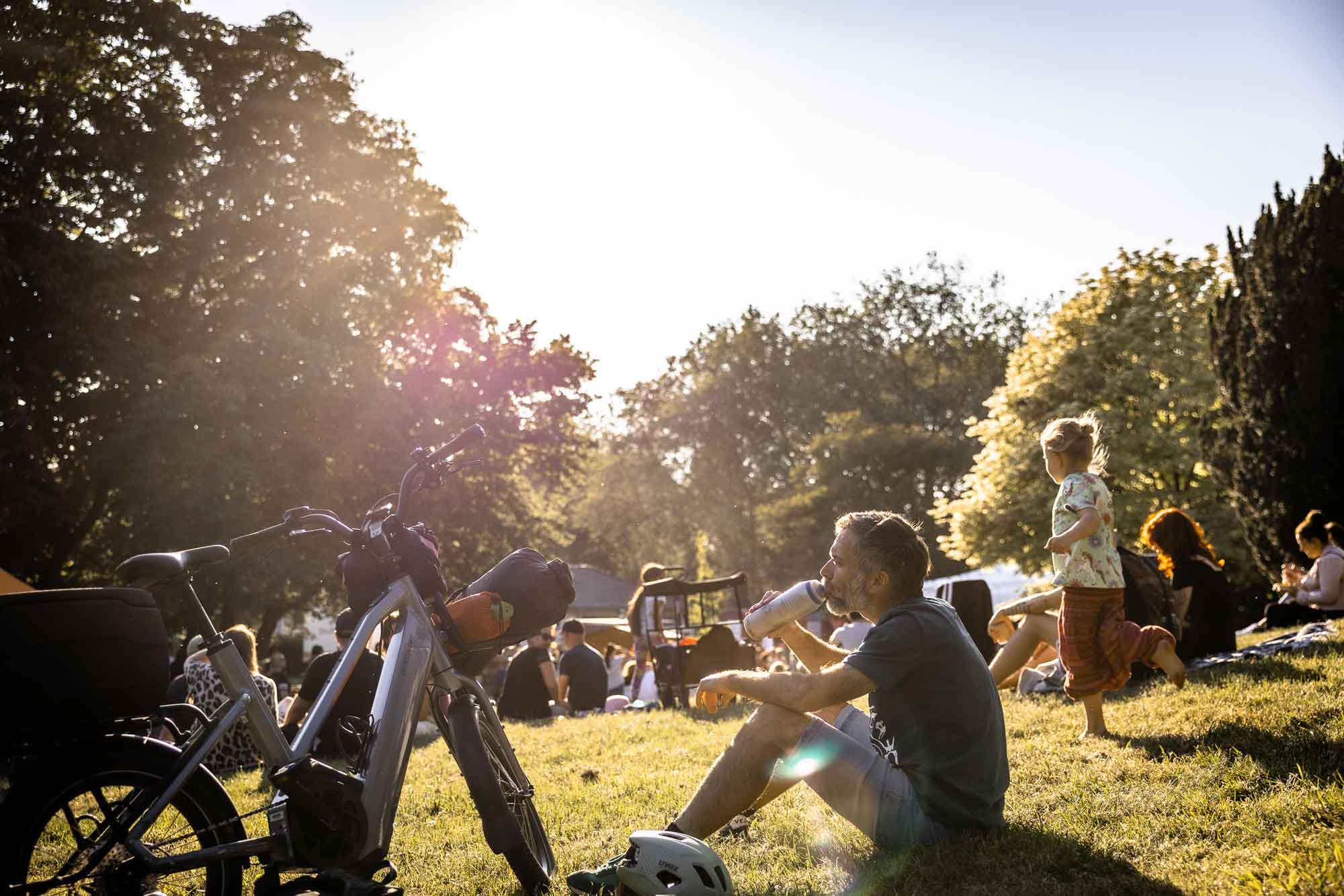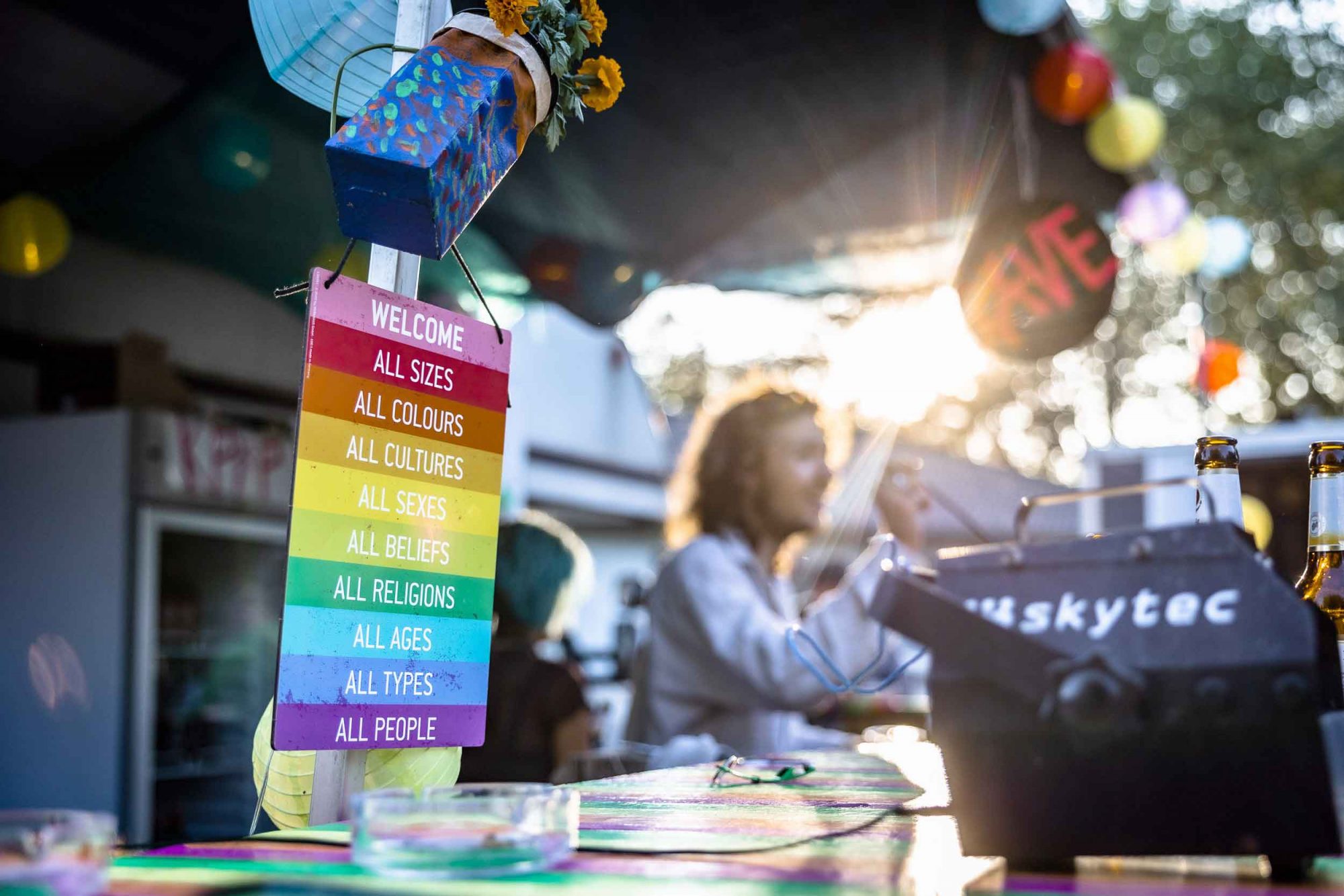 First impression
Next to the cargo bike in the garage, our Bergamont Hans-E test bike really looks mini! When the spontaneous idea came up to go on a bikepacking trip with it, the first question was: Will everything fit on it? The answer is: Yes! It is really amazing how much you can fit into so little "space". The key to this lies in the robust luggage racks as well as matching bags.
In fact, we packed relatively unrestrained and took significantly more with us than we normally do with a lean gravel bikepacking setup. Why did we hardly pay attention to weight? Of course, the e-motor is to blame for this. If it's already there, it should also show what it can do …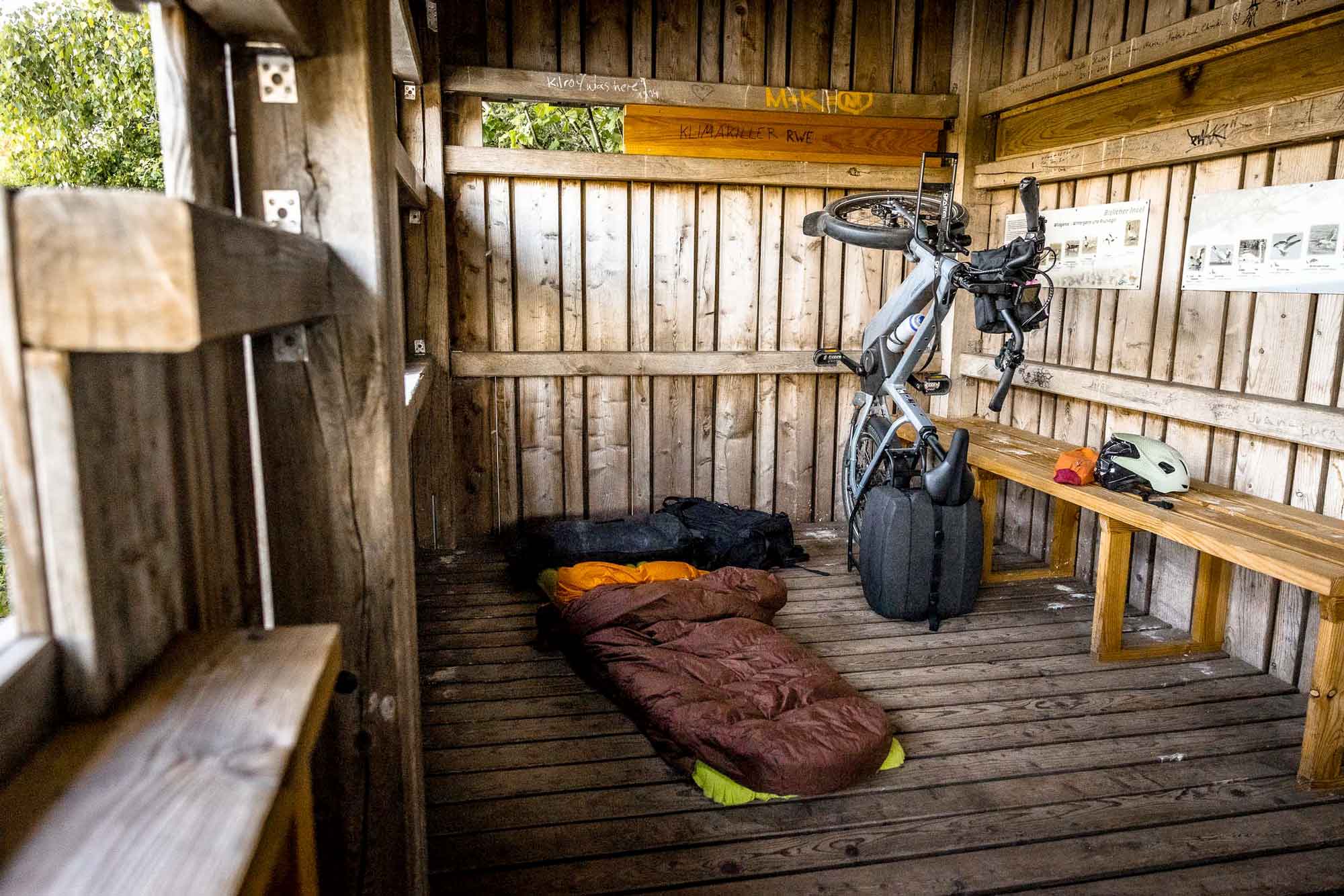 And it can do a lot: in turbo mode, the bike really goes forward. At least up to 25 km/h. The feeling of having to contribute remarkably does not come up. So that the battery does not run on reserve after a short time, we shift down a gear. Or rather, three gears: from maximum turbo mode to the lowest level "Eco". This is still fully enough to propel the compact package without exhaustion. This is clearly noticeable in the range display: From just over 40 kilometres, it suddenly jumps up to over 70. That sounds better …
Hans-E: More of a moped than a sports bike
Of course, a sporty gravel bike is not a particularly useful comparison. But since we usually travel on such companions, we do it anyway. So let's say it like this: It feels "funny" to ride on Hans-E. Thanks to the high handlebars, we feel a bit reminded of a moped. It also looks a bit like that … long story short: Hans-E has nothing to do with sporty riding. The seating position is as compact as the whole bike. In addition, you sit upright and quite comfortably. At least on the first kilometres – let's see if it stays that way.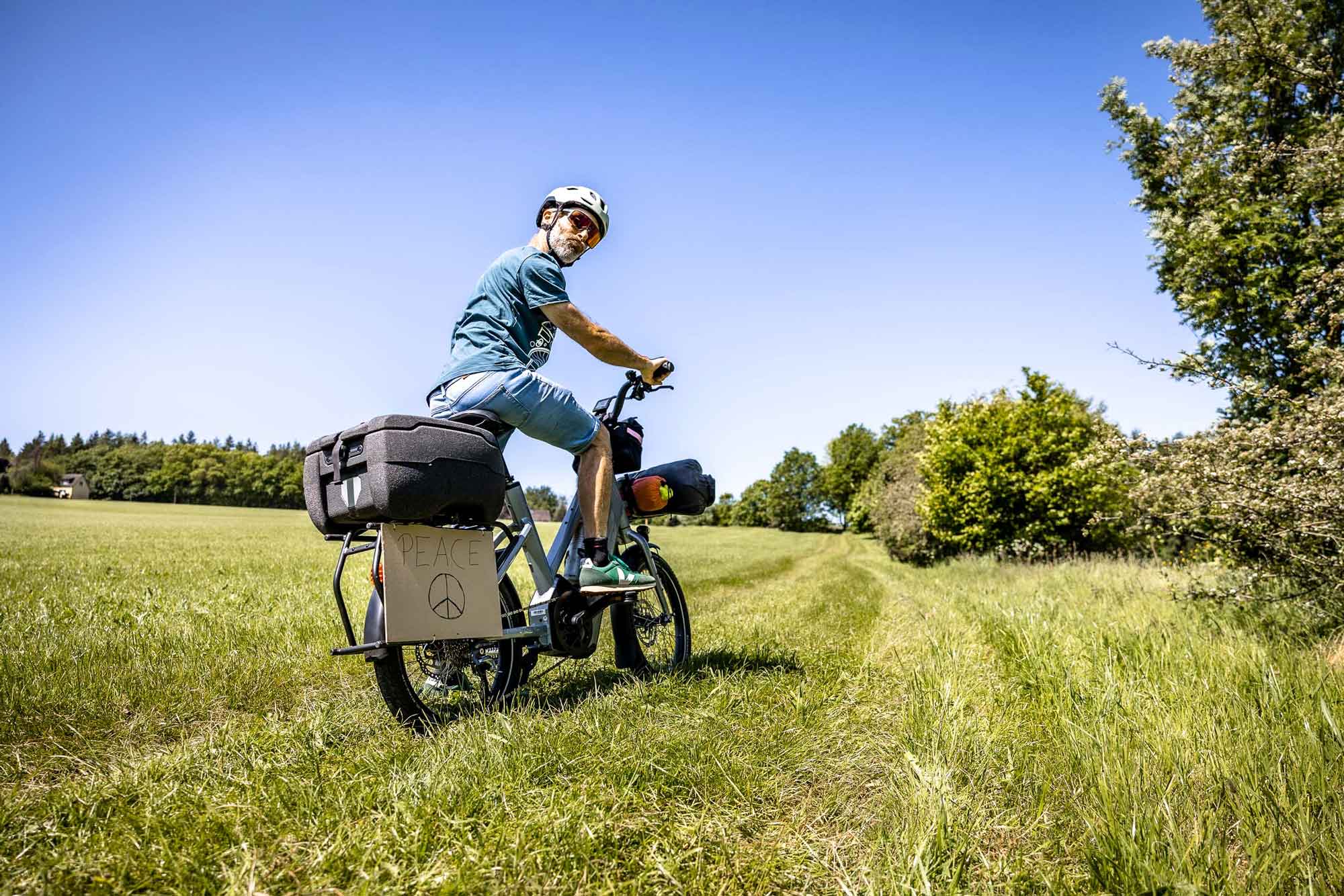 Once you get used to this relaxed position, it's fun even on long distances. You just have to "let go" first. Let go of the hectic pace that often accompanies you – simply because it is dictated by the sporty seating position of most gravel bikes. When a bike is so stiff, efficient and agile, you want to use it. Small sprints, snappy overtaking manoeuvres – that's all part of a gravel tour, isn't it?
Say goodbye to that when you're out and about with Hans-E. Hans is a very chilled out guy. You too can enjoy the freedom of relaxation! A sprint doesn't make sense anyway, because from 25 km/h onwards, of course, the motor assistance ends – and that would look really stupid. Also, the front wheel comes up if you pedal too hard – if you refine this technique into a skilful wheelie, you get extra style points.
All joking aside: during our Bergamont Hans-E test, the bike does exactly what it was built for – and with excellence. Hans keeps you comfortable in urban environments and even on the occasional gravel road. It is agile, but smooth-running – despite the small wheels. Its turning radius is sensationally small. And it doesn't care if you load it up: even then, all these good qualities remain. In short: Hans-E is an amazingly robust and resilient companion in everyday life. Whether on the way to the office, while shopping or on a weekend trip: Hans-E can do all that in an exemplary way.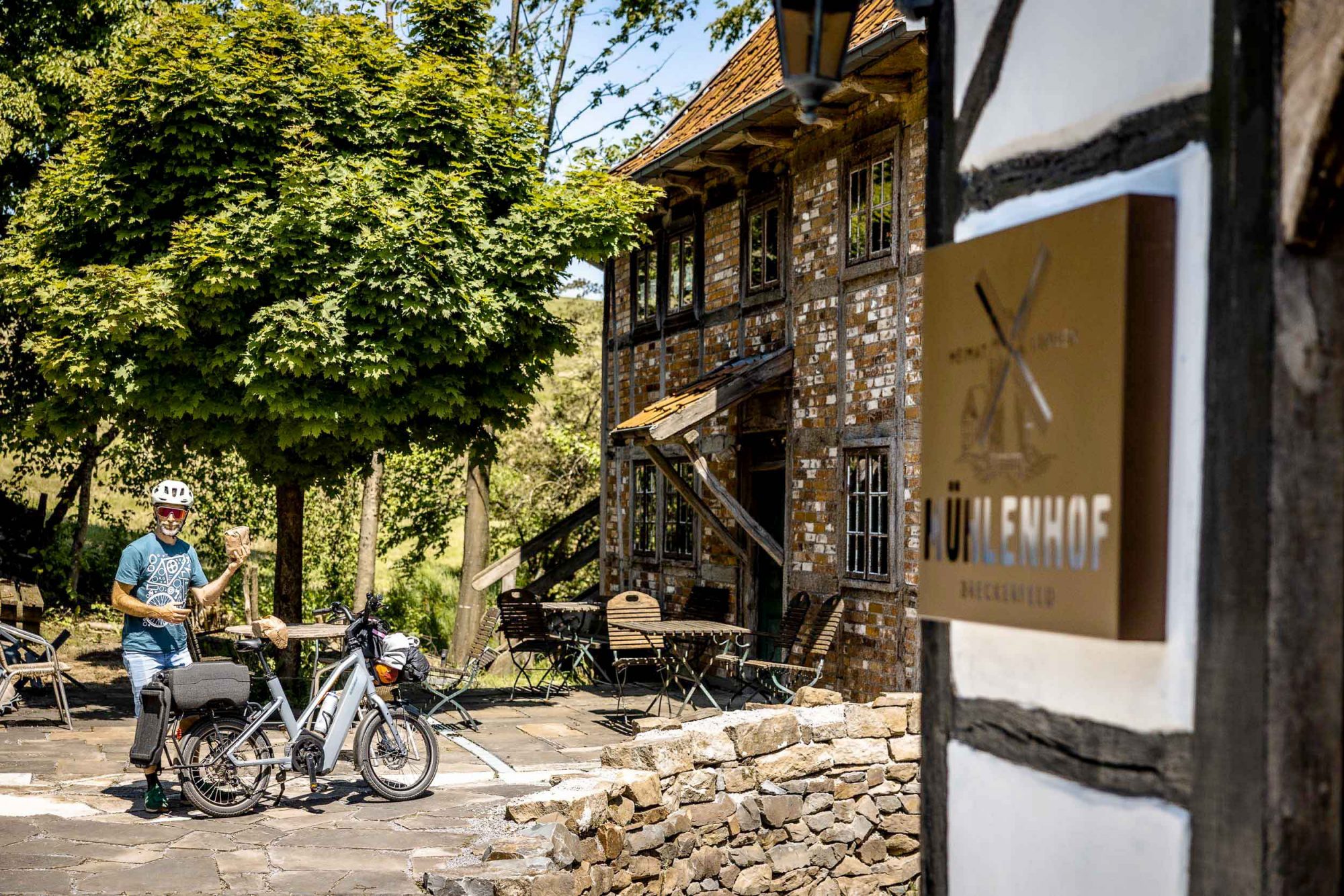 How long does the battery last?
Of course, there is no general answer to this question. It depends on what you've loaded, where you're riding from, how much you're pedalling yourself and what mode you're in. Day 1 of our Bergamont Hans-E Test Tour is therefore just one example: We rode around 75 kilometres and had used up around 60 percent of the battery capacity by the end. Initially, we were still on the road in the hilly area between Sauerland and Bergisches Land. Later, on the flat Lower Rhine.
We mainly rode in eco-mode, at the very end also without assistance, because it simply worked without problems in the flat country. In any case, we had the feeling that the integrated range indicator is reasonably realistic and tends to include a bit of reserve.
Bergamont Hans-E Test: Real-life experiences on our spontaneous bikepacking trip
What else did we find out on our first big trip with the Bergamont Hans-E? One important insight: A compact city saddle may be comfortable over a short distance. After 50 kilometres at the latest, it is no longer. In other words, the butt hurt. Furthermore, after some time, the chain drew attention to the fact that – in contrast to a belt drive – it definitely requires occasional maintenance. So if you are riding with a chain, don't forget the oil bottle.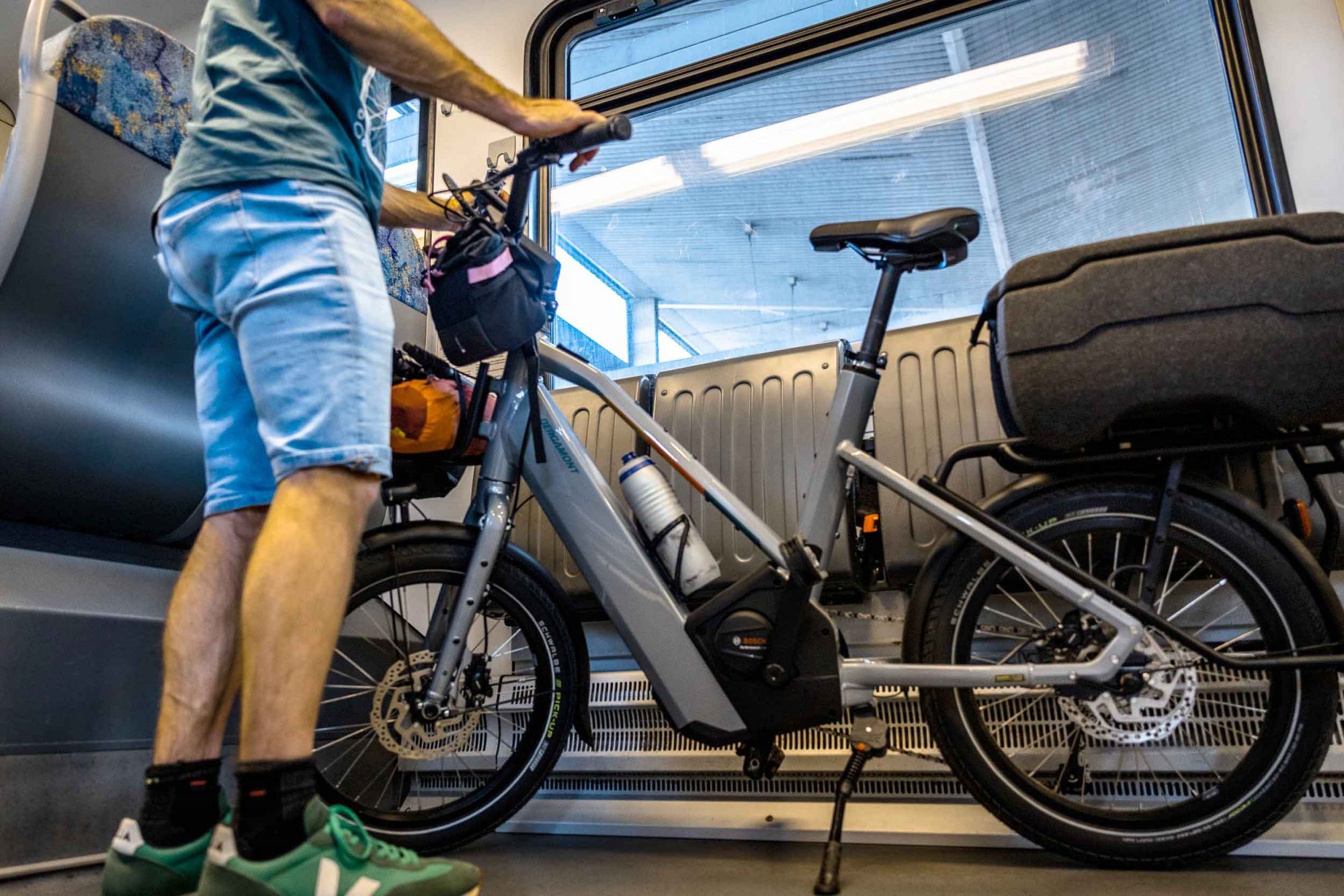 Third insight: Hans-E and the railway make a great team! Only at stations that were not barrier-free did the considerable total weight (empty it already weighs a good 26 kilos) of the loaded packhorse make us sweat. Once on the train, everything went well: the bike is super compact and, because it is so short, finds a place in every almost any compartment. A small side effect: thanks to its interesting appearance, we struck up a few conversations with other train passengers on the way.
These are our first impressions of the compact Hans-E cargo bike from Bergamont. Be excited for more adventures with this pretty cool mini bike! And check back because we keep our Bergamont Hans-E test up to date.