Content
Creator of this exciting Gravel cargo bike is Hase Bikes, a special bike manufacture from Waltrop on the outskirts of the german Ruhr area. Hase Bikes has been around since 1994 – almost 30 years now. Marec Hase founded the company and since then they have been thinking, trying and making. Serious engineering meets creativity, idealism and craftsmanship. At Hase, they are always open to (almost) everything, and you can see that in many of their products. Nevertheless, we were surprised to be served up such a cool Gravel cargo bike concept by Hase, of all people. Because actually the manufacture is rather known for recumbents, touring bikes and tandems.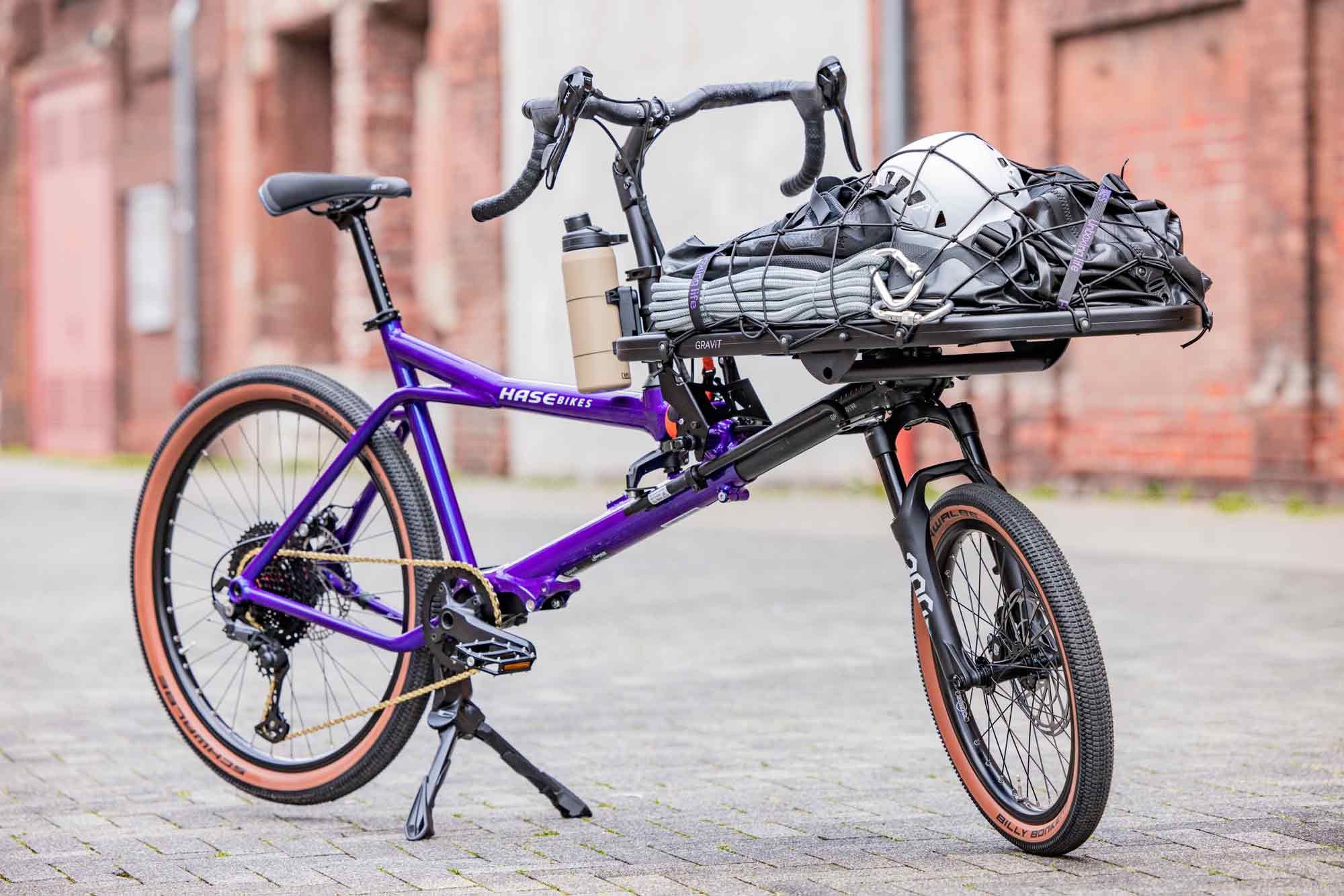 A Gravel cargo bike from creative custom bike manufacturer
So now a Hase Gravel Cargobike! It's probably obvious that we'll grab this right away and take a closer look. So here are the facts about the Hase Gravit Dust – which, by the way, we got ready for an extensive test at home during the Gravel Games.
So it's a Gravel cargo bike and thus, according to Hase, it feels just as comfortable on asphalt as it does off-road. It achieves this with a maneuverable geometry, particularly wide tires and off-road equipment, such as a wide-ratio MTB rear derailleur and a suspension fork. Thanks to the drop bar, it also looks like a gravel bike. And it should be light: The Hase Gravit Dust weighs just 20 kilograms.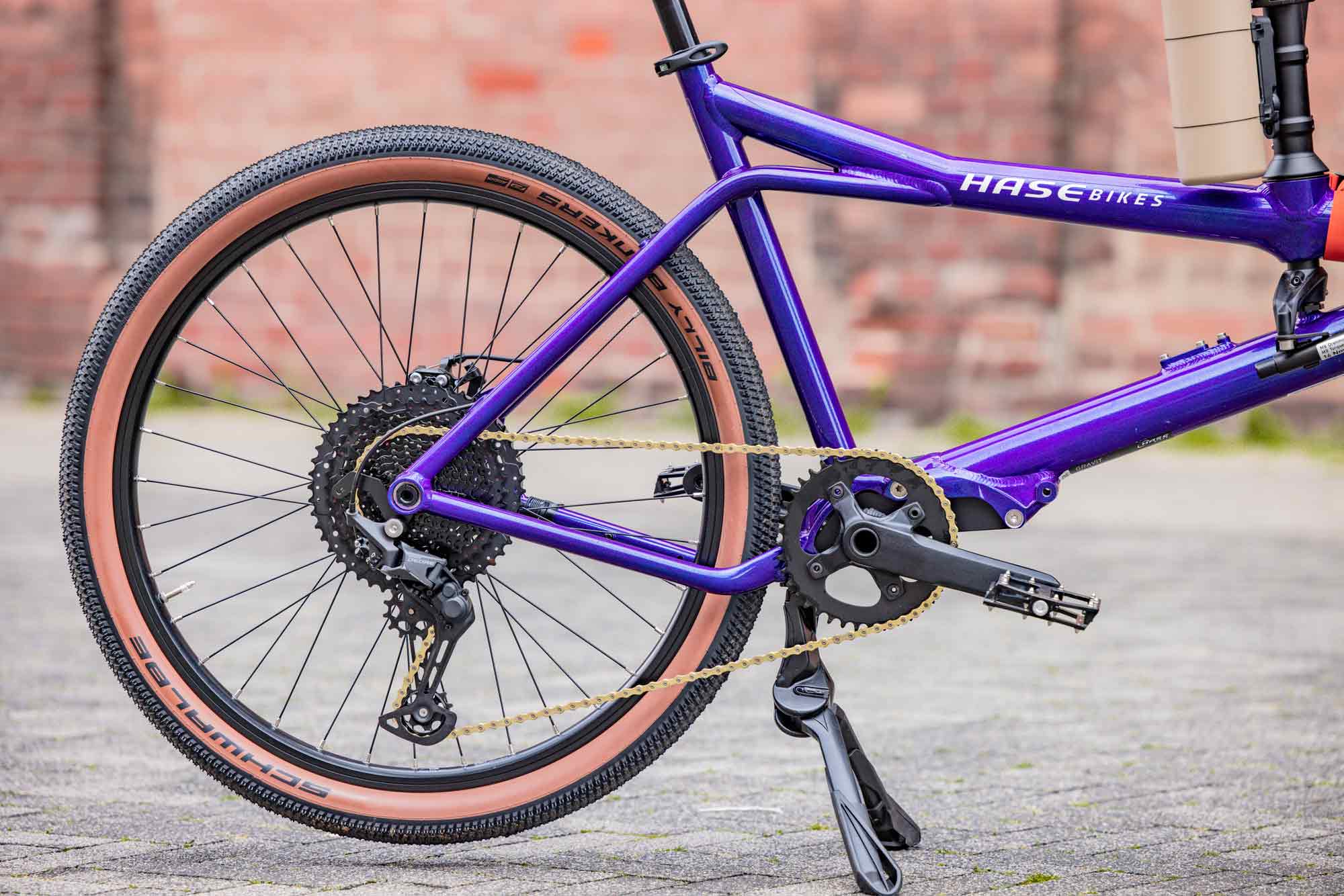 Hase Gravel Cargobike: A real cargo donkey!
Thus, it can carry 10 times its weight: 200 kilos are allowed. So minus rider and bike remains more than enough capacity for really a lot of cargo! This finds place on the Cargoboard placed over the front wheel – or laterally under it. There on each side can be additionally fastened one large and one small pocket. This allows the load to be stowed evenly and safely.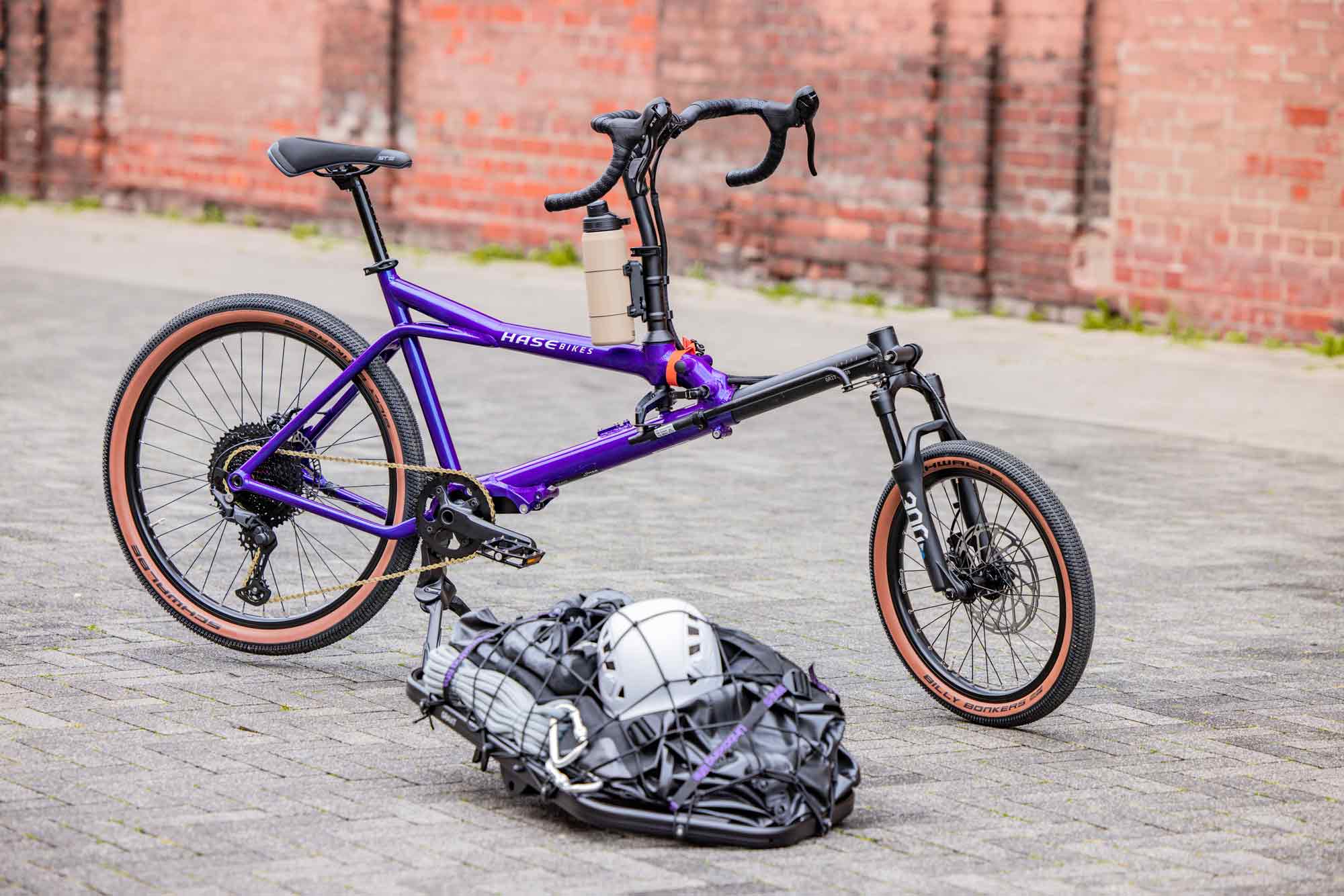 Hase Gravit Dust cargo bike: The quick-change artist
The transport concept of the Hase Gravit Dust is also ingenious: The loading area can be easily dismantled. In addition, you can push the frame together thanks to the telescopic principle: In this way, it becomes even more compact than it already is and fits easily in any stairwell or even on the train. At the same time, it remains drivable. Theoretically, the bike should make a super maneuverable urban bike without a cargo area and slightly "compressed".
Sounds good, doesn't it? The only question left is the price: The basic version costs 3,790 euros. Optional are still different boxes, bags and also a child seat in the program. And there is also a Hase Gravit E version: This comes in at 5,990 euros.
As already mentioned above: at the end of 2023 we will get a test bike that we will give a proper test run. In lifeCYCLE #23 you can read our story about it.