Bicycle Caravan I Woody – Overview
We have to admit: This no longer has much to do with a minimalist bikepacking setup. But sometimes it can be a little more comfort, can't it? This bicycle caravan has exactly that to offer. When you're on the road with the I Woody, you always have a roof over your head. And there's more: it has a weatherproof wooden body, so you'll have a dry shelter even in nasty weather. Inside there is a bench seat and a bed with a cosy PU mattress. A large window and a porthole give you a view of the outside. An integrated ventilation system ensures that the air also stays fresh inside.
Bicycle Camper I Woody: Technical data
In addition to all kinds of comfort for on the road, the small caravan is also equipped with some technical refinements. It is connected to the bicycle by means of a Weber hitch. The hitch arm is removable and lockable and has a lockable parking brake. Inside, LED lighting provides cosy light. There are also several USB ports, so you even have power with you. If you want to be self-sufficient in electricity, you can retrofit a PV system – the preparation for this is already available.
To help you sleep comfortably and level, an integrated spirit level helps you align the vehicle perfectly. The space inside is used efficiently. There is a folding table, a small table integrated into the door and various storage options. Here you can find a few impressions of the finished bicycle caravan.
The trailer is 205 cm long and 135 cm high. The mattress is 192 x 60 cm, can be extended to 92 cm wide. So you can also sleep comfortably as a couple. The total weight is 62 kilos. This makes it clear: this comfort solution is intended for combination with an e-bike – at least in hilly terrain.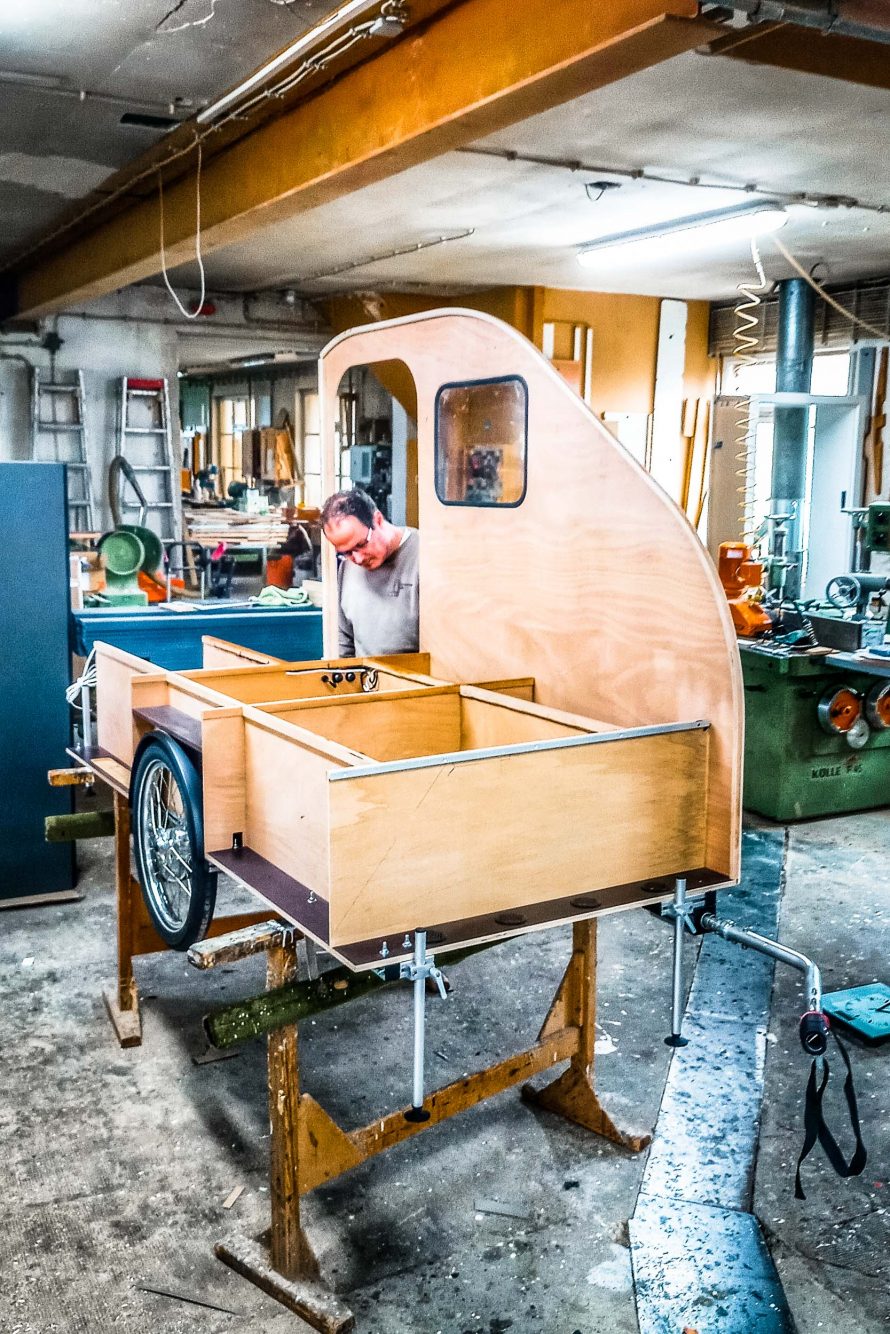 Bicycle Caravan in Manufaktur Quality Made in Germany
The I Woody bicycle caravan is built in the Naid Deliu wood workshop in Sinsheim-Hilsbach. Either by professionals – or by you! Of course, you can assemble your I Woody yourself under expert guidance. If you're keen to expand your craft skills, a DIY workshop is just the thing for you. Under supervision, you will then spend a weekend building your own bicycle camper out of wood! Two dates are initially scheduled for this:
until 6 August 2023
until 19 September 2023
The workshop will take place from Friday 2pm to Sunday 1pm. The self-built bicycle caravan costs 4,880 euros including catering. Completely assembled, the noble piece changes hands for 6,060 euros.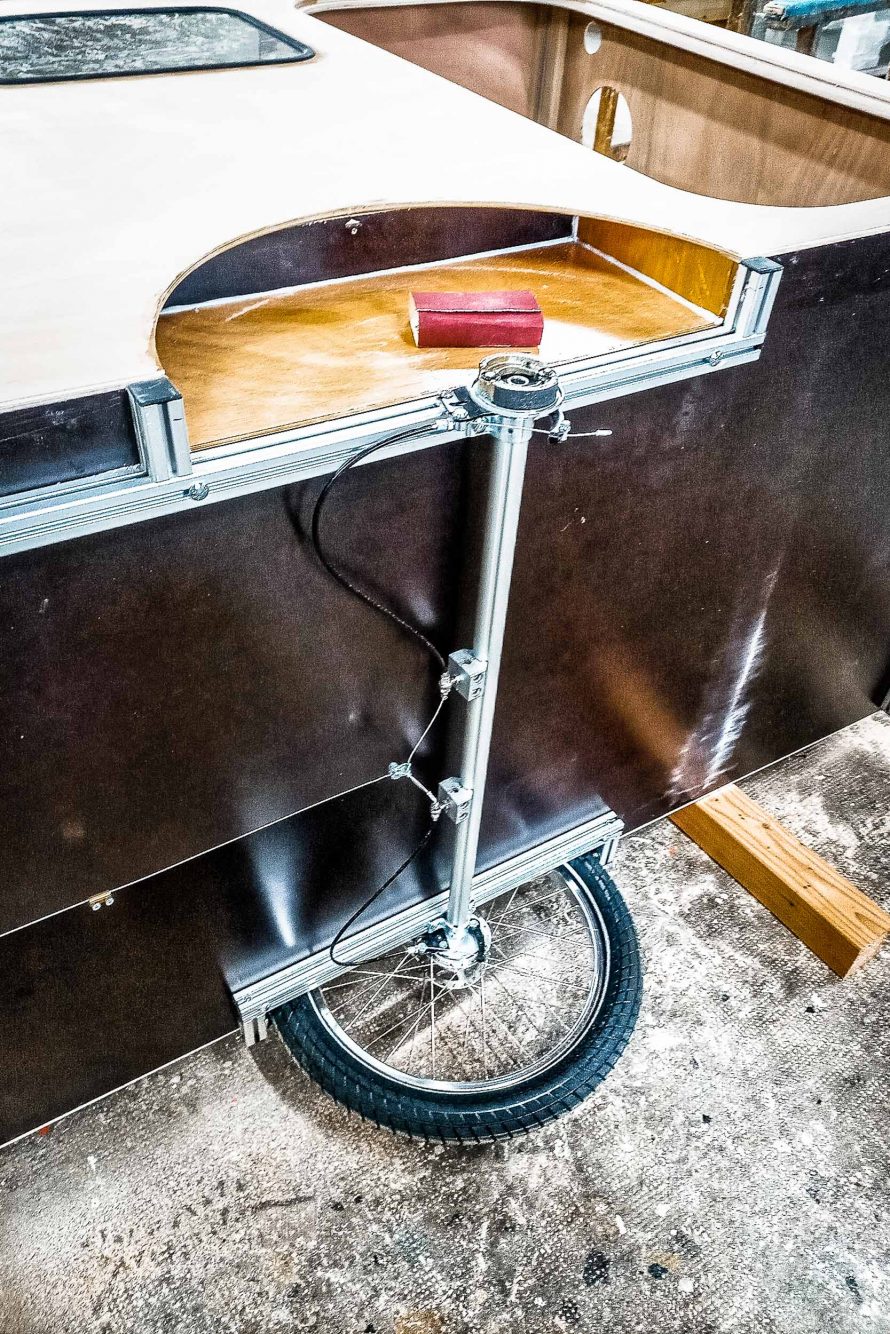 I Woody bicycle caravan is also available for hire
By the way: You don't have to buy the trailer. The I Woody can also be rented. Rental stations are located in Neckargemünd near Heidelberg, in Rimbach in the Odenwald and in Sinsheim on the Elsenz. So it makes sense to plan a small camping holiday directly in the Bergstrasse and Odenwald Nature Park or along the River Neckar.
More info on all this including pictures of the finished caravan and interior can be found here. By the way, the bicycle caravan I Woody has been awarded by the Association of Nature Parks in Germany as a beacon for sustainable travel.