Folding bike subscription – overview
Anyone who wants to can find a lot of fly in the ointment when it comes to the subject of Deutsche Bahn. The basic principle, however – a fast, comfortable and regularly running means of public transport by rail – is a good one. And it gets even better when you combine it with a second ingenious invention: the bicycle. Admittedly: The impression is not always given that this symbiosis has also been recognised by the Deutsche Bahn management. In case of this announcement, however, we have to acknowledge without envy: Someone has realised a great project! It is about the cooperation between Deutsche Bahn and the folding bike manufacturer Brompton. A pilot project in the Stuttgart S-Bahn has already been extremely positive. Now interested cyclists can buy a Brompton folding bike subscription for 41 euros all over Germany!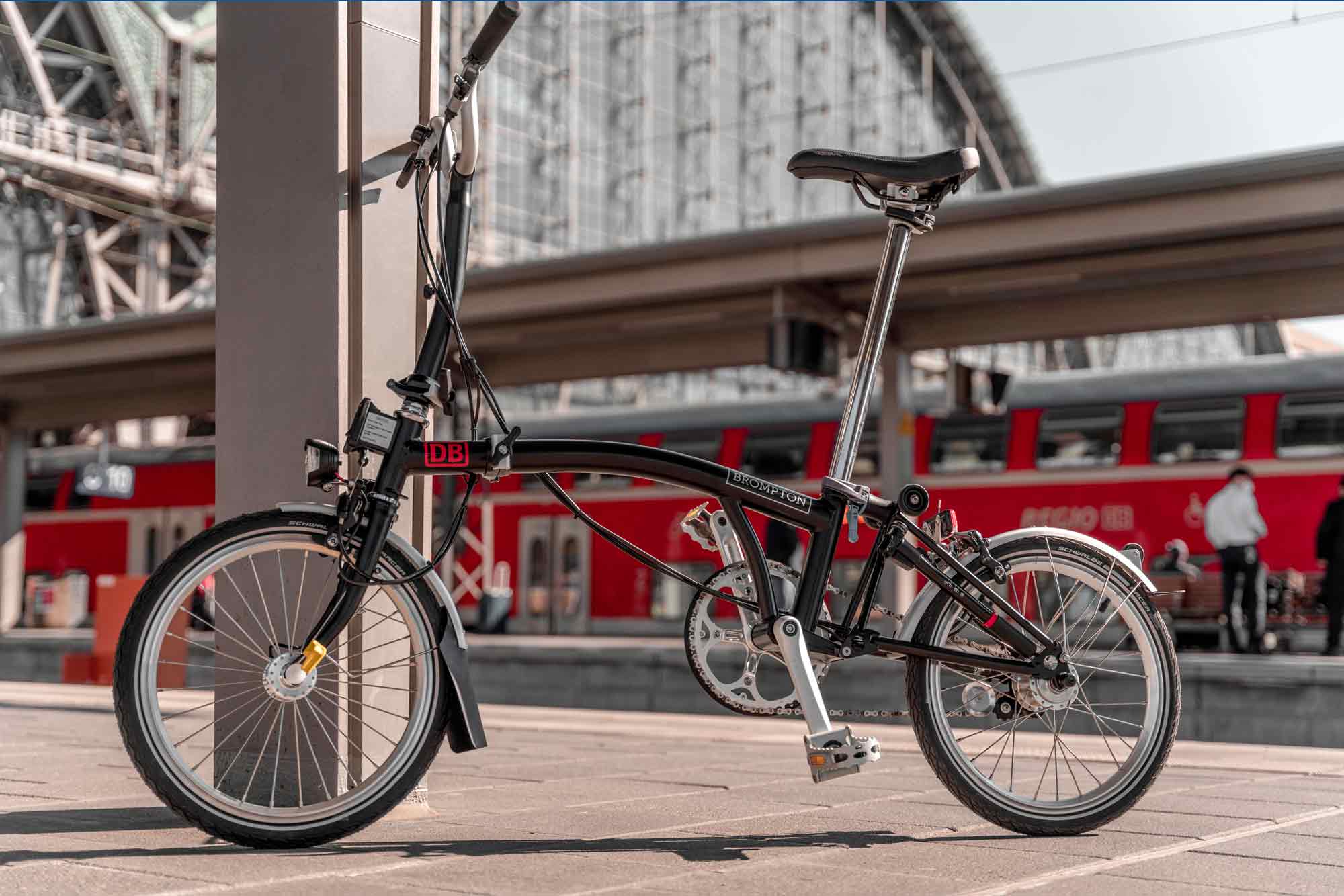 Folding bike subscription + train = simply brilliant!
Folding bikes may look a bit odd – but they are insanely practical. They unfold their full potential when combined with public transport such as rail. When folded, the small two-wheelers are considered luggage and can therefore be taken along free of charge. No annoying research into whether the train even takes a bike, no extra ticket. Plus: no searching for the bike compartment. This is because a folded folding bike usually fits under the seat or in the footwell.
It "disappears" just as easily as a larger bag. In contrast to one of these, however, the folding bike offers a decisive advantage: it is an inexpensive, silent and healthy way to travel to the station as well as to the destination of the journey in a flexible and environmentally friendly way. Since traffic jams, city traffic and the search for a parking space are eliminated, it is often much faster than driving a car. By the way: We have already tested various folding bikes. Take a look at our Kwiggle and Bergamont Paule test.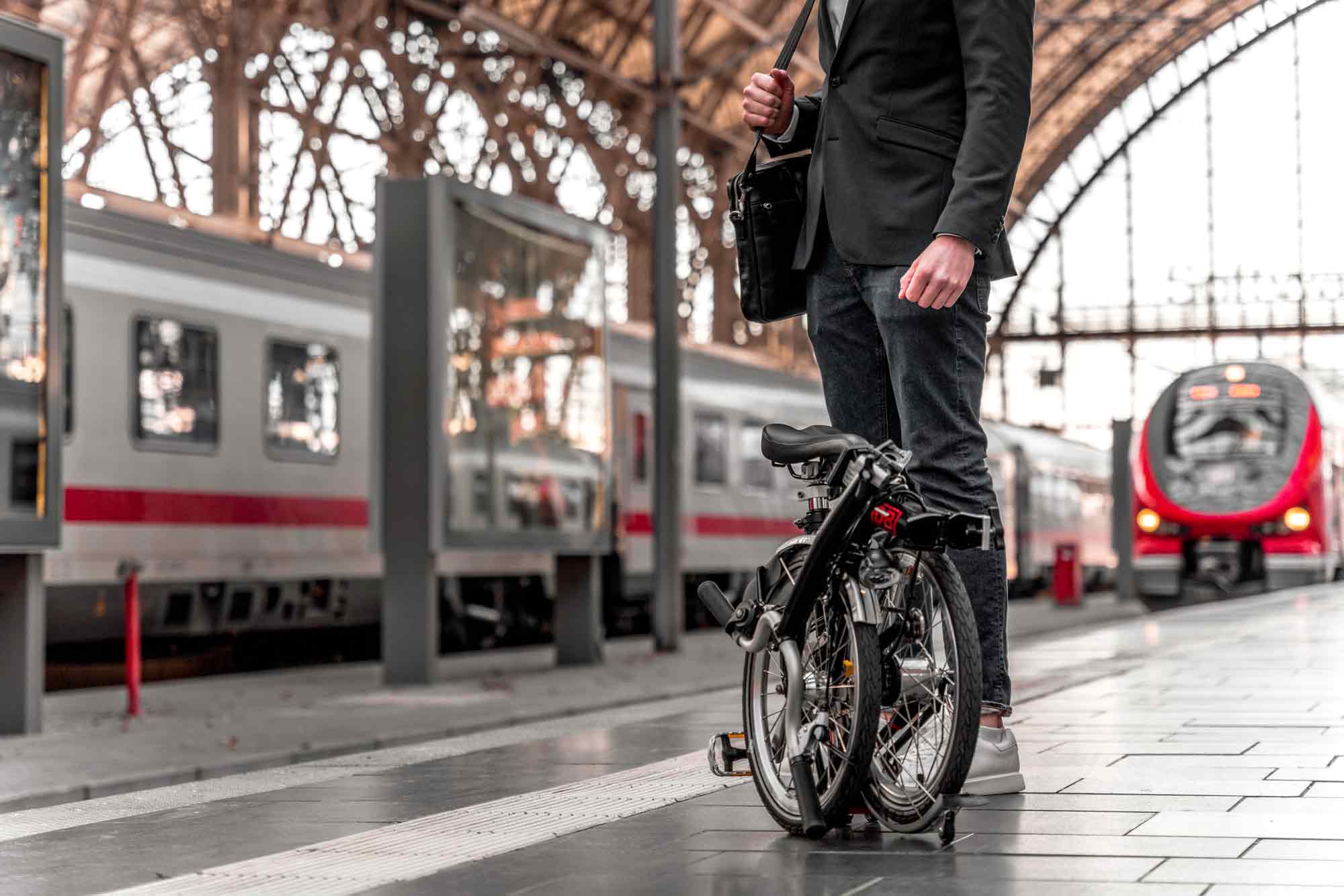 Rent a Brompton instead of buying one: with a Deutsche Bahn folding bike subscription
The numerous advantages of this symbiosis have now also been recognised by the Deutsche Bahn. Or at least the project group that was allowed to realise that cooperation: the folding bike subscription with Brompton. The subscription principle is no longer new. The advantages are obvious: without a large investment, you can afford a nice vehicle with monthly payments. In this case, a high-quality Bromptom C Line Explore. You don't have to make a permanent commitment: The subscription has a term of twelve months. After that you can renew your subscription or buy a new Brompton at a discount.
The Brompton subscription offers an all-round carefree package. It's good for you if you're not sure whether a folding bike is really your thing. You don't have to worry about much. Delivery is free of charge. Your bike is well insured and a service check is included after six months. If you want to buy a new Brompton after the bike subscription period, you get a discount: six monthly payments or twelve monthly payments if you want to buy an e-Brompton. If you also buy a Deutschlandticket, you'll be travelling unbeatably flexible and unbeatably cheap all over Germany! That sounds good? Click here to go directly to the Brompton subscription.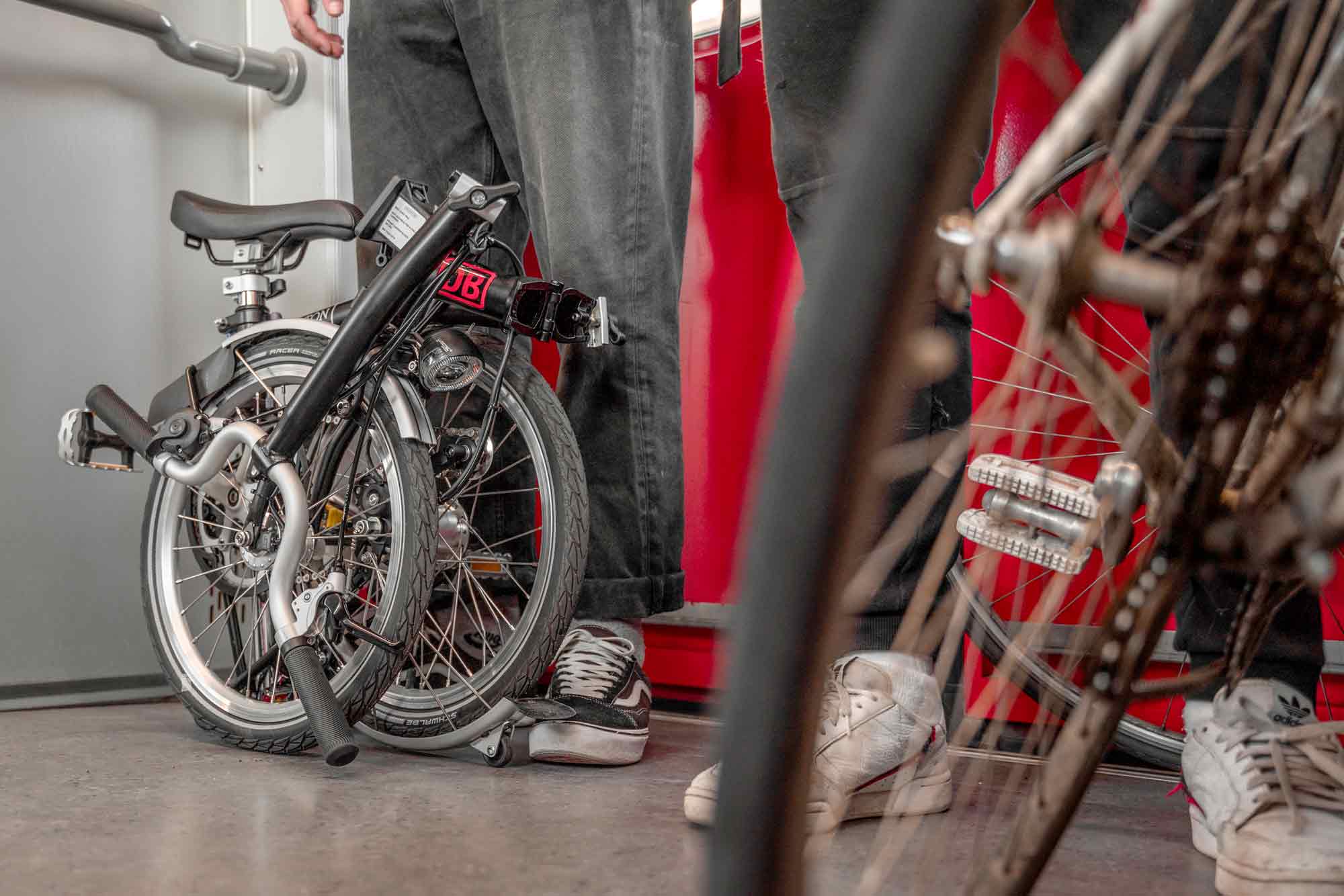 Brompton C Line Explore: folding bike subscription deluxe
With the Brompton folding bike subscription you get a really cool Brompton delivered! This is a classic steel Brompton, namely the C Line Explore model. It has full commuting equipment with six gears, mudguards, Brompton pannier mount and a Busch und Müller dynamo front light. If you want to buy the bike, it's available from 1,865 euros. By the way, Brompton also offers subscription models independently of the railway as well as 0 per cent financing. It's worth taking a look at the Brompton website if you don't like the Bahn Faltrad subscription.