Car city vs. bike city – overview
The other day I went for a longer bike ride. To be exact, it was more than 500 kilometers in two days, with my cargo bike plus trailer – on behalf of the Schokofahrt. For many people, that's a relatively long distance in a relatively short time. For me as well and you can be sure that my butt hurt afterwards. But that's not the point. Rather, it's about sitting in the saddle for a really long time and basically not being able to do more than pedal, steer and: think. My theme on this ride: car city vs. bike city.
Empty streets, many thoughts
Reflection goes especially well when, due to a virus, most people stay at home and the streets are much emptier than they normally are. This not only makes it quieter. This made me notice one thing above all: How incredibly much space roads take up. I rode through big cities with multi-lane roads and it was only with the absence of all the cars that it really struck me how much people put up with just to be able to drive around everywhere. It was suddenly so empty, so calm and so without aggression and stress. If there was'nt all the concret and asphalted surfaces, yes then it could be quite beautiful here.
Now I wondered why people still put up with all the noise, dirt, and hazards that come from cars in their immediate vicinity? After all, these are the same people who escape on vacation to enjoy peace and quiet and the idyll of nature. You then fly somewhere to enjoy a car-free vacation village or walk along narrow hiking paths. Afterwards, they proudly tell you how nice it was there, where they might go once a year under normal circumstances. And then you get back in your car, and pollute your own home. "That's kind of stupid," it flashed through my mind.
It was only the absence of all the cars that really made me realize what people put up with just to be able to drive around everywhere. Car city vs. bike city? I don't have to think long …

Martin Donat
Can't? Yes, but …
"Yes but….," I could already hear the skeptics shouting. Yes, but there is no other way. Yes, but I don't have that much time, yes, but I need way too many things, yes, but the kids have to get to school somehow, yes, but, yes, but… Yes, but: I'm riding a bike here right now and transporting 200 kilos of things through half of Germany, which shows that it's possible.
Yes, but it has been scientifically proven that bicycles are much faster over short distances than cars. Yes, but it is equally scientifically proven to be good for my health. Yes, but it doesn't actually take any science at all to realize for oneself that fresh air, peace and quiet and nature are good for us. Yes, but then why do cities look the way they do?
I had to think of Copenhagen. Not everything is perfect there either. But there are many corners there that prove how nice it can be in a city if you just build "a little" bike infrastructure and run the major roads around it. The best way to "experience" the car city vs. the bicycle city is to visit a bicycle city – then you'll understand what I mean.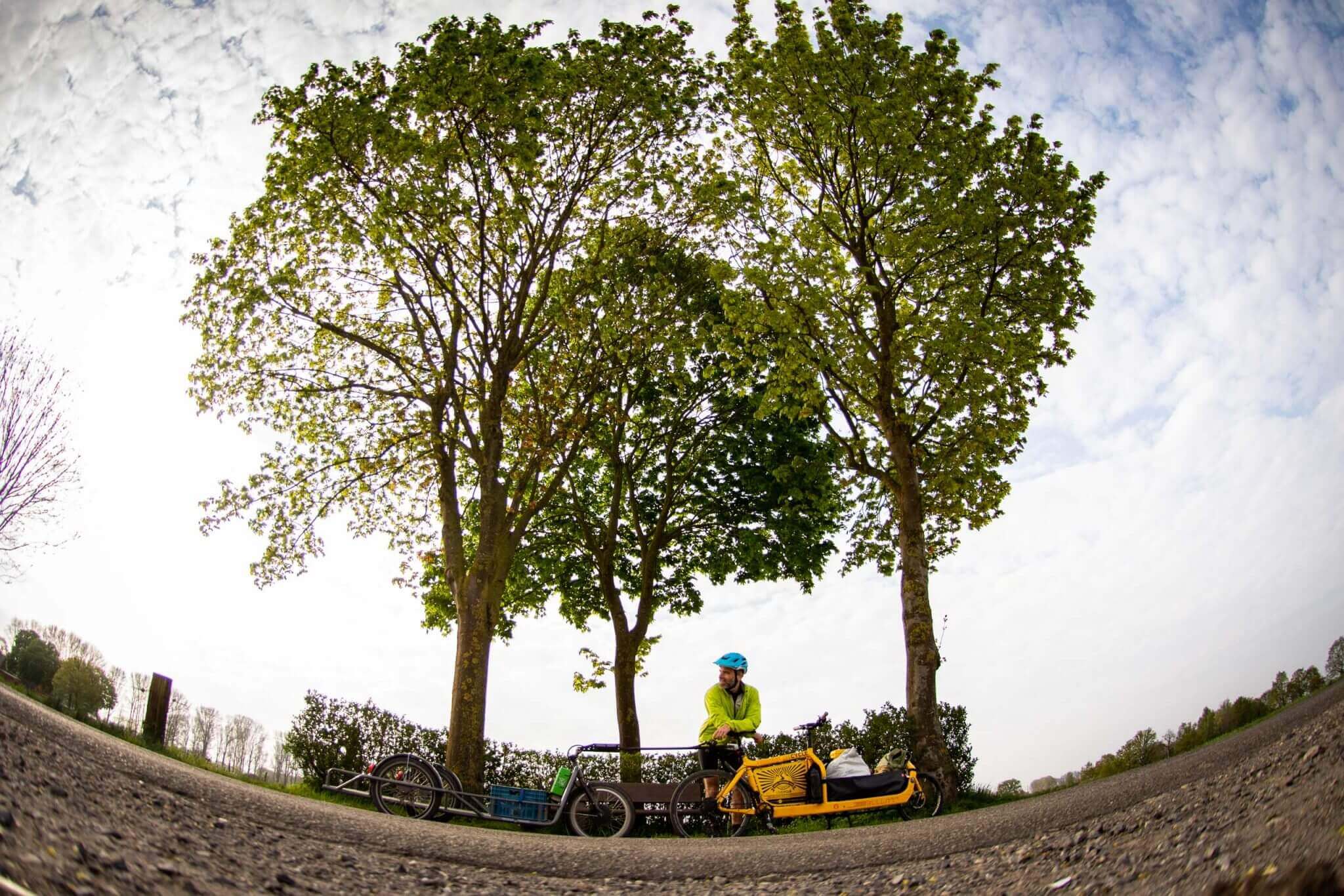 Car city vs. bike city: How about the costs?
What surprises me most about the whole thing is the money thing. Bike lanes are so incredibly much cheaper than roads. And just what a little more movement of humanity would save our health care system in costs – maybe we can easily "afford" such a pandemic as a result, who knows. So, when it comes to money, most people stir something up, don't they? Or not. Too bad actually.
Maybe it's because most people just like a cool car better than a fancy bike. About the fact that in a car anyone, no matter how lazy and unfit, can feel fast and strong. Maybe you first have to ban car advertising and show the kids in school how awesome such a bike is? After all, what we are experiencing right now shows that politics (somehow also "we") are quite capable of reacting quickly and consistently when something really intrusive pisses us off.
In the "Corona" case, the reaction came at the last minute, but still quickly enough. With the climate it is a bit different. The changes are noticeable, but not so immediate that the whole world would wet its pants. We can still take care of that in ten years, can't we?
I was on the road for quite a long time that weekend. And as beat up as I was, as inefficient as this ride may seem, I was exhausted but satisfied and proud when I got back. I have never had this feeling after a car ride. Car city vs. bike city? For me the case is clear …