CBT GRAK – Overview
When a bike manufacturer advertises regional production in its own manufacturing facility, we are always all ears. Producing things locally not only has ecological advantages. There is simply a big difference between just ordering a product "somewhere" and being directly involved in its creation from start to finish. Which brings us directly to the content of this message. The Italian bike manufacturer CBT – which advertises with "Made in Italy" – presented its new gravel bike. So before we go into detail about the new CBT GRAK gravel bike, let's take a quick look at the manufacturer. We hadn't even thought of its name in the context of gravel until now …
CBT Italia: Bicycle construction with passion and tradition
The name CBT stands for "Costruzione Biciclette Tardivo". The translation can also be derived without a dictionary and should read something like this: Tardivo bicycle construction. Tardivo is the name of the company's founder: Giovanni Tardivo founded the company in the mid-1950s in Cuneo, Italy. The town is located in the north-west of Italy, not far from the border with France, the Mediterranean Sea and Nice. Tardivo started as a wholesaler and distributor of bicycle and motorbike parts. It was not until the sons Bruno and Guido joined the company that they specialised in producing their own bicycles.
At the end of the 1980s, the bicycle manufacturing business was consistently focussed on: CBT invested in modern machinery and specialised in the processing of steel and aluminium for bicycles, but also for aviation. In the bicycle division, the focus is clearly on high-quality racing bikes. In 2002, the Belarusian Sinaida Stahurskaya (who unfortunately had already died in a training accident) attracted attention with her victory in the women's Tour de France. She rode on a carbon fibre frame made entirely in Cuneo, the forerunner of today's carbon monocoque frames. That was quite remarkable for those days.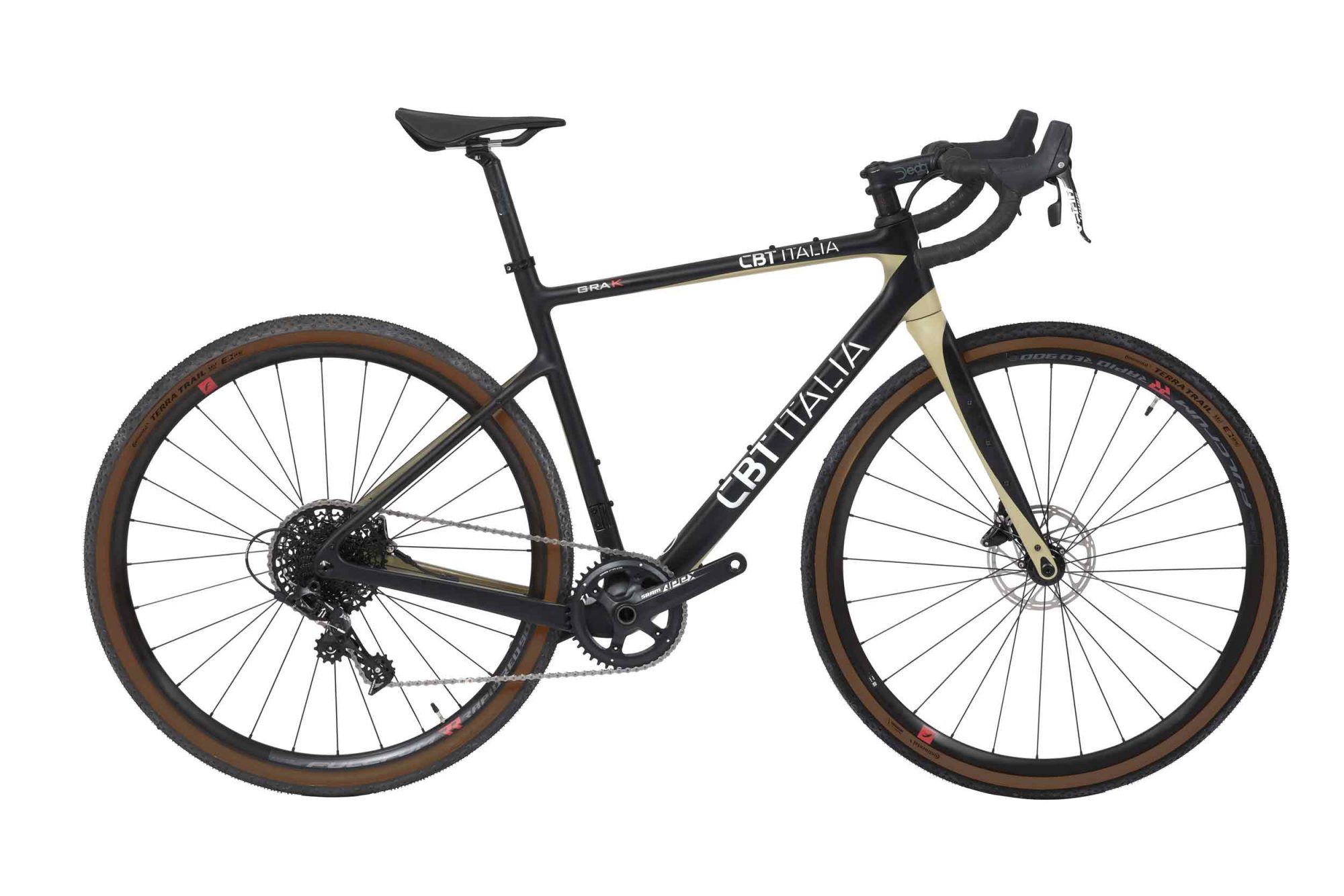 Today, CBT's product portfolio exclusively covers drop bar bikes. In addition to classic road bikes, CBT also offers models boosted with electric motors. Now a gravel bike is added! According to its own statement, the Italian manufacturer is committed to very high quality, first-class materials and innovative technologies. Production is still located in Cuneo. However, it seems that not all bikes are built there. We asked: The GRAK is developed in Italy but manufactured in the Far East.
CBT Gravelbike GRAK: New carbon gravel bike from the Italian brand CBT
After this brief company profile, we now want to take a look at the new CBT GRAK gravel bike. CBT says of the new GRAK that it has a frame with stylish curved tubes, integrated cable routing and a balanced mix of comfort and performance. You don't place the GRAK as an exclusively performance-oriented gravel bike, but rather as an endurance gravel bike. It is also said to be very variable in terms of attaching accessories. What does that mean in detail?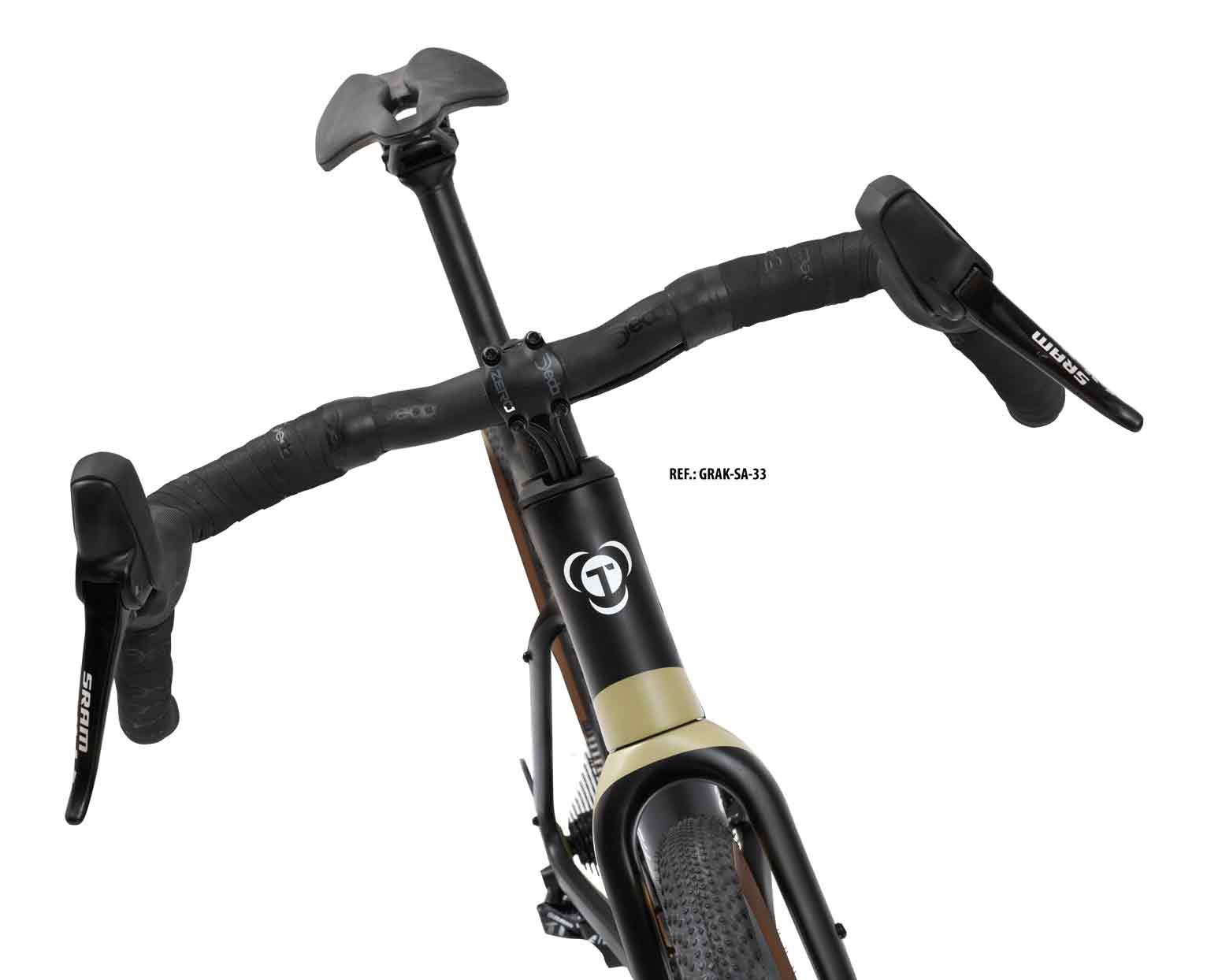 CBT GRAK: Comfort meets efficiency
CBT makes use of the flexibility of carbon as a material and has developed a frame design that is either stiff or very comfortable in the most important places. A stiff bottom bracket area, for example, is designed to provide good power forward, while other tubes of the frame are designed to absorb vibrations as well as possible. Of course, CBT has not reinvented the (carbon) bike, but has adapted a proven concept to the new frame.
Essential for a comfortable ride is, of course, the geometry. CBT classifies its new gravel bike as rather compact, comfortable and agile: Even on long rides, back and neck muscles should remain relaxed thanks to a comfortable seating position, while the bike should score with the best agility. By the way: The weight in size 52 is said to be only 9.25 kg. For a clean look, all cables are routed internally in the frame.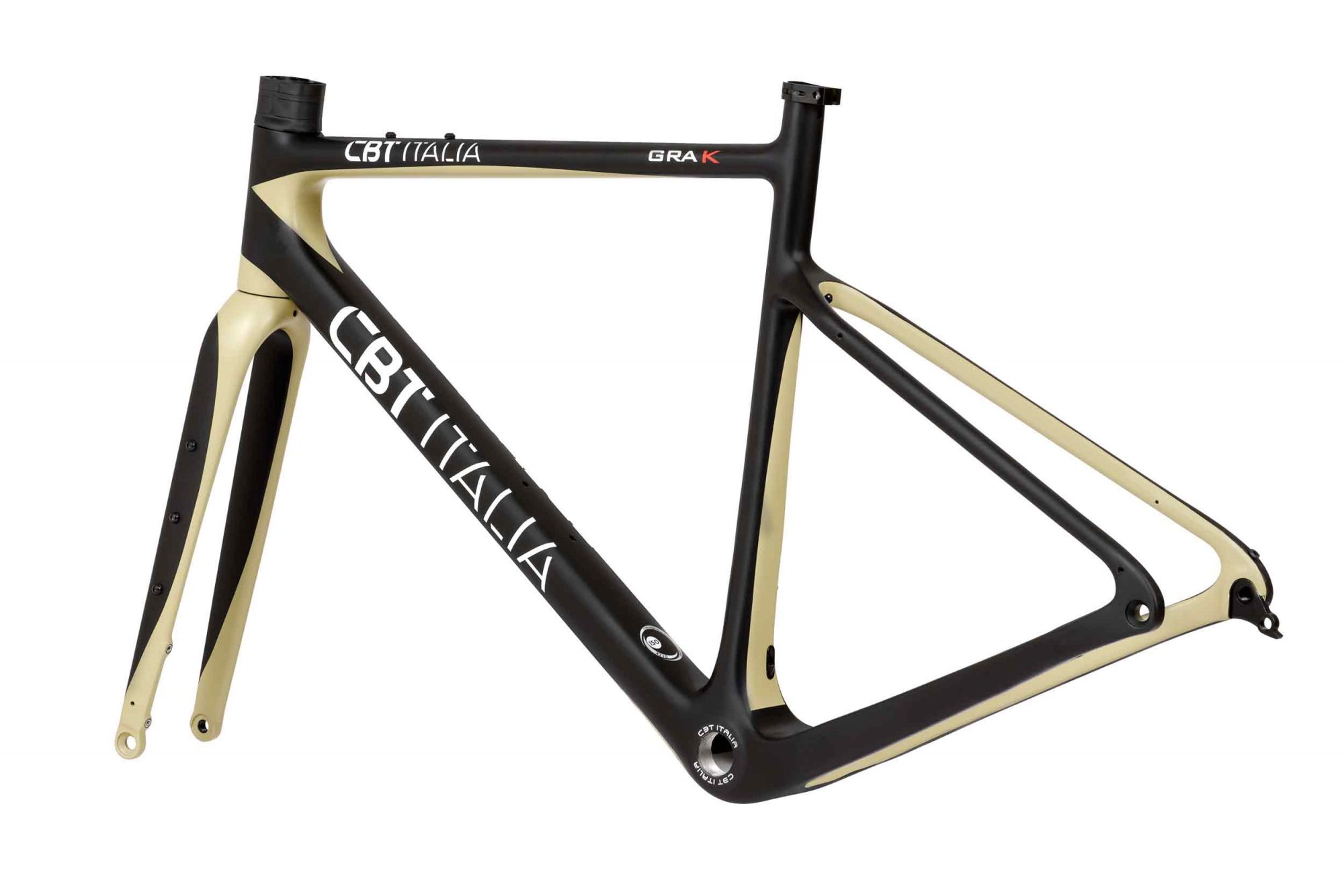 Fit for bikepacking and more: All kinds of attachment options on the CBT GRAK
In addition to all kinds of bottle cage eyelets on the frame and fork – including on the top tube – the CBT Gravelbike GRAK has mounts for a rack. This should also make the bike interesting for bicycle travellers. Use as a "commuting gravel bike" is also possible. The components don't care whether you're riding the GRAK off-road or on asphalt. The mix of SRAM drivetrain, Conti tyres, Fulcrum wheels and parts from Italian component manufacturer Deda is also well equipped for rough terrain. In short, the CBT Gravelbike GRAK appears to be a manoeuvrable and fast bike that promises optimal riding pleasure on unpaved and bumpy roads, but also in urban environments.
CBT Gravelbike GRAK: Models and Prices
The CBT GRAK is available in two different versions: with SRAM Apex 1 HRD groupset or with SRAM Rival 1 HRD. The prices for these are a moderate 3,110 euros and 3,320 euros. You can also buy the CBT GRAK as a frame kit. For 1,499 euros you get the frame, the fork and the matching headset with spacers. The bike is now available in five different sizes from 45 to 56. Import and distribution in Germany and Switzerland is handled by the Swiss Kumach GmbH. If you are interested, you can ask directly there: info@kumach.ch or by phone 0043 664 819 71 65.