Chrome Bags 2023 – Overview
Chome Bags: Bright colours – clear philosophy
Chrome makes bags for biking, travelling, being creative and for everyday urban adventures. Chrome makes bags for biking, travelling, being creative and for everyday urban adventures. Weather resistance, safety and practical features that make everyday life easier have always been part of the company's philosophy. Chrome has earned a good reputation with this. As colourful as the new styles are: These core product features remain, of course.
Many Chrome Bags from the well-known core collection get a freshup with new colourways. The styles go by "Navy Tritone", "Amber Tritone", or – in the case of the limited design editions – "Studio Black" and "Gay's Okay", a tribute to the LGBTIQ+ community.
Chrome Bags X Gay's Okay: Rainbow Reflective Collection
The highlight of the new colour styles is the Chrome Bags X Gay's Okay collection. At Chrome, they firmly believe that everyone deserves to be seen, heard and celebrated. But since there is still a lot of exclusion, they want to strengthen the LGBTIQ+ community with a gaudy "Rainbow Reflective" look. The colourful styles were created in close collaboration with Allan Shaw, founder of Gay's Okay Cycling. They are intended to draw attention to the deplorable state of affairs and to set a highly visible sign. A part of the worldwide sales proceeds will also be donated to Outright International. This is an organisation that fights globally for the human rights of LGBTIQ+ people and has consultative status with the United Nations.
Three models (Kadet, Doubletrack Bar Bag, Tech Accessory Pouch) are intended to carry the message of self-expression, joie de vivre and visibility – both figuratively and literally – into the world and stand for more tolerance. A kaleidoscope of rainbow colours becomes visible as soon as light falls on the reflector panels. The typical chrome plug-in fastener also shimmers in bright colours: for the first time, it has been given an iridescent metal finish. Pink elements are used for the lining, straps and zipper loops. The inside label shows attention to detail: it explains the mission of Gay's Okay.
Discreet eye-catcher: The Chrome Bags Studio Black Collection
The Chrome Bags portfolio includes some real classics that have cult status. Five of the all-time favourites are now being reissued as the Limited Edition "Studio Black". The models Barrage Cargo, Citizen Messenger, Kadet and Mini Kadet as well as Ziptop Waistpack have been true icons in the urban scene since the 90s. These are practical, unbreakable bags with no frills.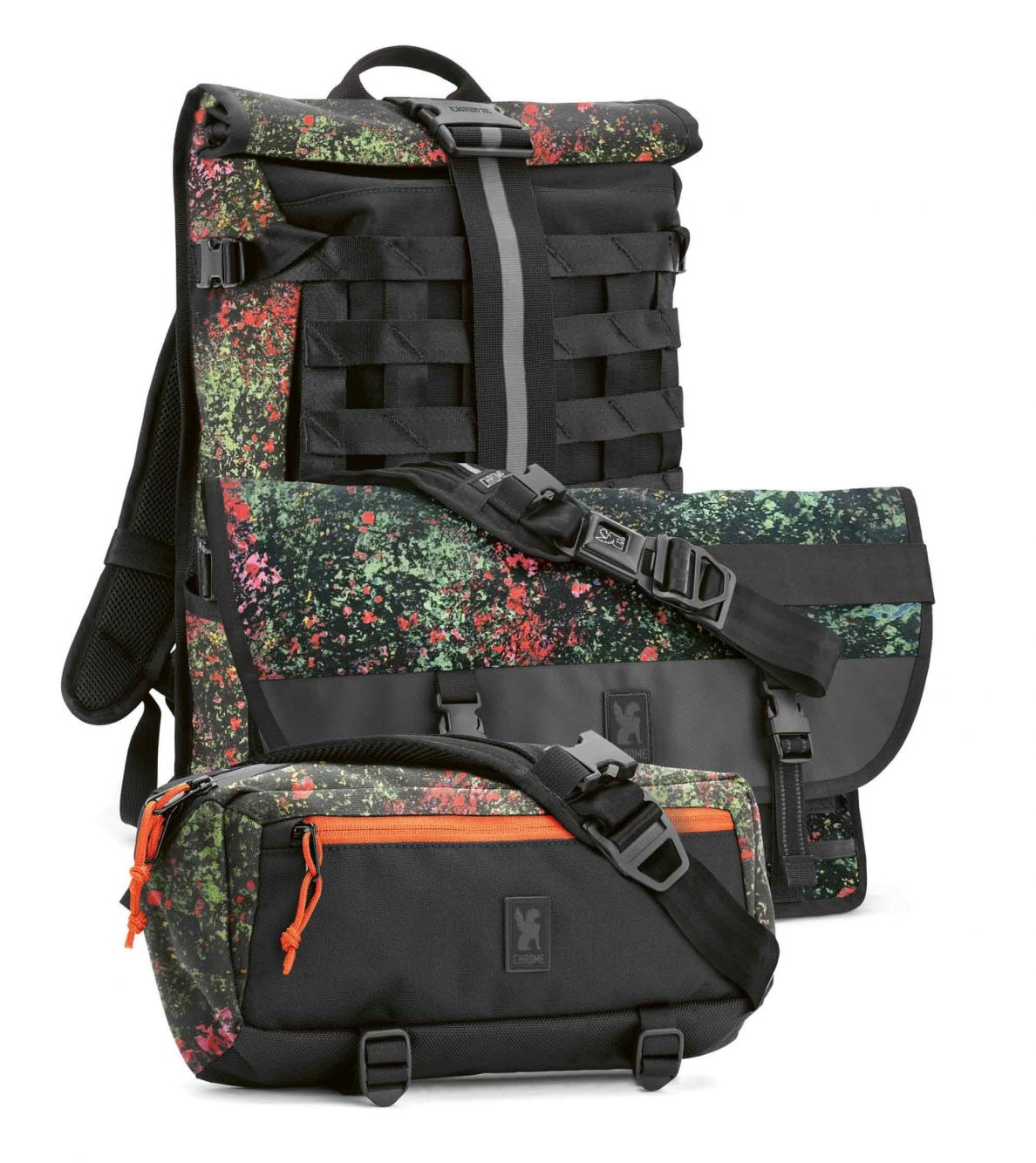 Together with designer Jennifer Stady (Laundry Studio) from Portland, each model has now become a true work of art: ink and paint spraying techniques transferred to the outer material make each of these Chrome Bags unique. Bright orange, which is used on the lining, zips or zip loops, provides a contrast to the otherwise matt black pockets.
For sunshine kids: The Chrome Bags Blue Hour & Golden Hour Collection
If you like the harmonious, warm colours of the golden hours of the day, then the Blue Hour and Golden Hour Collections are for you. As soon as the sun appears in the morning or shortly before it disappears in the evening, the surroundings are bathed in magical light – all those who like to take photographs know this particularly well! Chrome Bags has captured these colours in its "Navy Tritone" finish. The new colour series includes Chrome's messenger and sling icons "Citizen", "Mini Metro", "Kadet", "Mini Kadet" and "Ziptop Waistpack" as well as the roll-top backpacks "Barrage Cargo" and "Barrage Freight".
Finally, a fine detail that we particularly like: all Chrome bags come with a lifetime guarantee and – if something does break – a professional repair service.